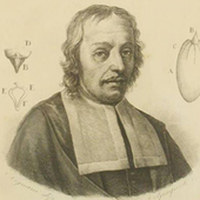 Towards the end of 1656 Ferdinando II summoned him to Pisa where he took up the chair of theoretical medicine. He became friends with Borelli who introduced him to Galileo's "free philosophy".
In 1659 he was recalled to Bologna as a lecturer in the theory of extraordinary medicine, passing to ordinary medicine in 1660. In 1662 he accepted the primary Chair of Medicine at Messina, but would return to Bologna in 1666. Appointed by Innocent XII to the post of chief pontifical physician in 1691, he moved to Rome where he died three years later.
His scientific work focused on microscopic anatomy, and would lead him to investigate lung structure, the cerebral parenchyma, the gland system, problems of sense perception, the field of embryology and the structure of the internal organs. In 1669 his reputation won him the nomination to honorary member of the Royal Society of London. It was in London, too, that his Opera Omnia came out (1686-1687) in 2 volumes illustrated by 122 copper-engraved plates. His posthumous works would be published in 1697 and 1698.