Università di Bologna
About Unibo
Research at the University of Bologna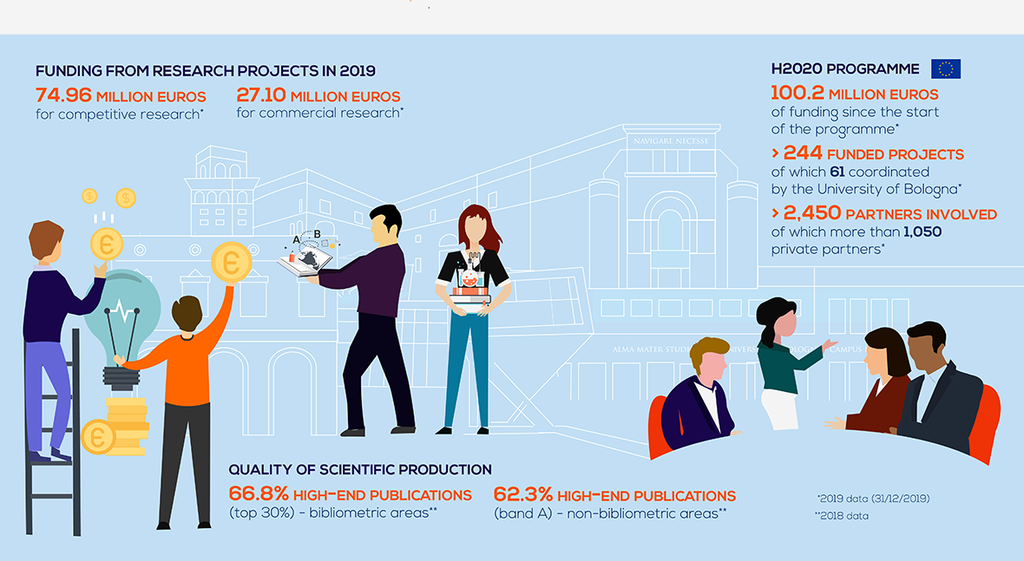 In 2019, funding received for research projects was 74.96 million euros for competitive research and 27.10 million euros for commercial research.
Since the start of the EU H2020 programme, a European Commission's contribution of 100.2 million euros has been allocated to the University of Bologna by the end of 2019. There were 244 funded projects, of which 61 were coordinated by the University of Bologna. The number of partners involved totalled around 2,450, of which more than 1,050 were private.
Regarding the quality of scientific research, in 2018, in bibliometric areas 66.8% of academic publications ranked among the top 30%, while in non-bibliometric areas 62.3% of academic publications were ranked in band A, the highest.
THE CAMPUSES OF THE UNIVERSITY OF BOLOGNA
Read about the Campuses of the University of Bologna and the Campus in Buenos Aires
STRUCTURES
Departments, Schools, Centres, other structures constitute the cultural, teaching and research nucleus of the University of Bologna