Università di Bologna
About Unibo
A University open to the world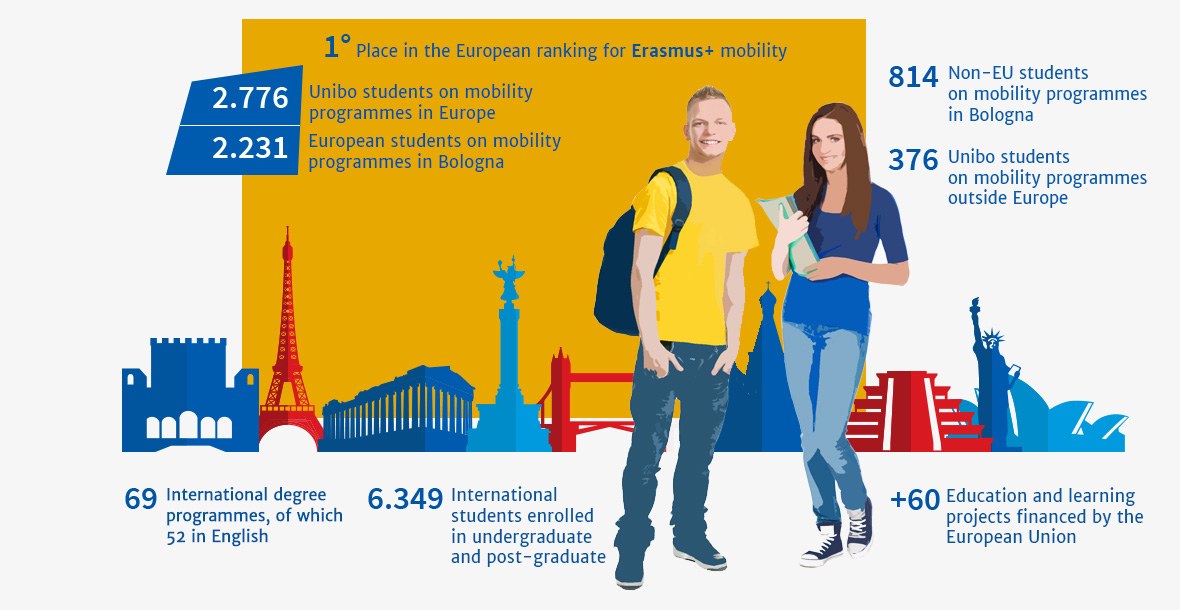 The University of Bologna ranks first in Italy for the number of students abroad and the amount of funding received under Erasmus+.
During 2018 there were 2.776 Unibo students on mobility programmes in Europe, while 2.231 European students came to Bologna under the Erasmus+ programme.
At the same time, 376 Unibo students went outside the European Union on mobility programmes and 814  non-EU students came to Bologna.
The 2018/19 programme catalogue offers 69 international degree programmes, of which 52 in English.
As many as 6.349 international students enrolled for undergraduate and post-graduate degree programmes in the 2018/2019 academic year.
The University coordinates or participates in more than 60 education and learning projects financed by the European Union, with the principal objective of improving University education and, in general, education at all levels via international and other initiatives.
THE CAMPUSES OF THE UNIVERSITY OF BOLOGNA
Read about the Campuses of the University of Bologna and the Campus in Buenos Aires
STRUCTURES
Departments, Schools, Centres, other structures constitute the cultural, teaching and research nucleus of the University of Bologna
University and society
Sustainability, development cooperation, art, science, culture, technology transfer and entrepreneurship: this is our third mission