Hungry for knowledge, Aldrovandi was the leading representative of the 16th-century fashion for encyclopaedic naturalism at the University of Bologna. Over the course of his long life, he built up a collection of objects and mineral, vegetable and animal specimens from all over the world, creating the largest "microcosm of nature" of the time, which he used for his research and teaching and finally donated to the city of Bologna.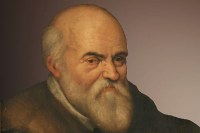 Ulisse Aldrovandi was born in Bologna in 1522 to a noble, prominent local family. He lost his father at a young age and, an exceptionally exuberant youth, he felt compelled to leave home early in search of adventure and knowledge. Returning to Bologna, he began studying humanities and law in 1539, but, instead of taking a degree in law, he switched to the University of Padua in 1548 to study philosophy, mathematics and medicine.
The following year, his life was changed by his encounter in Bologna with Luca Ghini, who had created the first medicinal herb garden for university use in Pisa in 1543. This inspired Aldrovandi to devote himself to the natural world, the study of which he continued to pursue until the end of his life.
In 1549, the young scientist was accused of heresy and forced to publicly recant in the basilica of San Petronio. In spite of this, he was called to Rome to stand trial again, but then saved by the rise to the papal throne of Julius III, an acquaintance, and permanently acquitted.
While in Rome, Aldrovandi met the French physician Rondelet, whose research on fish fascinated him, inspiring him to collect various specimens, which soon grew into the first collection for his museum. His stay in the Eternal City also gave him the opportunity to admire the classical ruins, on which he wrote his first published treatise ("Le statue antiche di Roma" 1556).
Between 1551 and 1554, he built up and expanded his famous herbarium with finds from numerous trips.
In 1553, at the age of 31, Aldrovandi took a degree in medicine and philosophy, becoming professor of logic the following year. In 1555, he switched to professor of philosophy, a post that he held until 1559, also becoming a professor of botany in 1556, keeping that post until 1561.
In 1561, the discipline of natural philosophy ("de simplicibus") was created specially for Aldrovandi, who taught the subject until 1600.
Needing space to cultivate his plants, the professor was granted usufruct  of the garden of the Palazzo Comunale by the Senate. There, in 1568, he created Bologna's first botanical garden (the fifth in Italy), which he personally tended until his death. With the exception of a brief period (1587-1600) when it was moved to Porta S. Stefano, the garden remained open to citizens and the university until 1803, when it was moved to its current location in via Irnerio. Its former location was first turned into an armoury, then a post office and then a bank, and is now a library (Sala Borsa).
In 1574, as chief physician of the College of Physicians (although he never practised the profession), Aldrovandi fought against the pharmaceutical production of "theriac", a compound believed to be miraculous at the time. A legal dispute followed, and the scientist only managed to retake his professorship through the intervention of the Bolognese pope Gregory XIII, born Ugo Boncompagni, who was a cousin of his mother.
In 1600, by this point weary and nearly eighty years old, Aldrovandi scaled back his activity, keeping only the running of the medicinal herb garden, which gave him time to devote to the publication of his writings. The only volumes published in his lifetime were the Ornithiologiae and De animalibus insectis, while all the others were issued posthumously, most of which edited by his follower Bartolomeo Ambrosino (De reliquis animalibus…Mollibus, Crustaceis, Testaceis et Zoophytis 1606, De piscibus 1612, De quadrupedibus 1616, Quadrupedum 1621, De quadrupedibus digitatis viviparis … et oviparis 1637, Serpentum et Draconum 1639, Monstrum 1642, Pomarium curiosum 1642, Musaeum metallicum 1648, Dendrologiae naturalis silicet Arborum Historiae 1667)
In 1603, childless, Aldrovandi drew up his will, leaving his vast collection to the Bologna Senate: 18,000 natural specimens and archaeological and exotic objects, 7,000 dried plants preserved in fifteen volumes (the oldest in the world), seventeen volumes of watercolours and fourteen cupboards filled with woodcut blocks.
In 1742, this immense public collection was given to the Istituto delle Scienze, although it was tampered with and broken up during the Napoleonic occupation of the city. Starting in 1907, the university restored the most important core of the collection, preserving it in the Museo di Palazzo Poggi, its library and its herbarium.
This extraordinary collection, more analytic than synthetic and more the fruit of curiosity and academic erudition than a scientific approach and critical spirit, was a gift from one of the greatest exponents of 16th-century encyclopaedic culture, which still embraced, alongside Averroist and Aristotelian theories and detailed observation of the natural world, stories, legends and beliefs drawn from classical texts, discovered in medieval bestiaries and passed down in stories from the Far East.