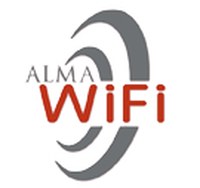 ALMAWIFI is the name of the University of Bologna web allowing students, professors, researchers, technical and administrative staff, PhD students and collaborators of the University of Bologna to access the Internet and the on-line services of the university directly from their own mobile devices, using a WiFi connection (802.11) to the university network. 

Who can use the service
The service is available to teaching staff, students, technical and administrative staff, research fellows, PhD students and accredited collaborators of the University of Bologna.
Access to the service is strictly personal.
 
Service Features
To ensure simple, widespread access to the ALMAnet, Internet and online services, Cesia - Computer Service Center has developed a safe model for using the WiFi service called ALMAWIFI.

The ALMAWIFI network is already running in some university facilities, particularly to cover those areas where traditional cabling is difficult or where the Internet connection has to be guaranteed to a large number of users (libraries, laboratories, public access areas, etc.).

The system involves the authenticated access only to those with DSA credentials according to a certified system which uses the WPA protocol to protect the traffic generated by the users.

How to access the service
In the attachments box you will find general instructions for configuring any device, and detailed ones for the most commonly used operative systems.
You may check and if necessary install the certification chain via the Catena di certificazione Terena [.zip] link, which works on all systems.