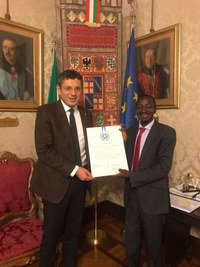 Luzindana Adam Buyinza, Leader Team of Public Opinions International, visited our Alma Mater in Bologna to deliver the 2017 Global Sustainable Development Award, recognizing the University of Bologna's commitment to sustainable development.
During the meeting, the Rector presented the Report on UN Sustainable Development Goals, a tool that the University of Bologna has put into place from 2016 to monitor university actions on sustainable development and the UN's 17 goals.
On the other hand, Luzindana Adam Buyinza presented to the Rector the aims of Public Opinions International, an Uganda-based organization led by young Ugandans with the mission of achieving the United Nations Sustainable Development Goals.
Some of the tools aimed at achieving this goal include training sessions and field-orientation sessions devoted to the UN's sustainable development goals, activities aimed at developing personal competitiveness and supporting the spread of information on Africa and the UN goals. Through an initiative entitled "East Africa Sustainable Development Goals Awareness Project", Public Opinions International is engaged in field training, mentoring sessions and public awareness raising.
Finally, various opportunities of collaboration between the University and Uganda were explored, including the organization of events, training projects and other exchange initiatives with African students.
Published on: 15 November 2017