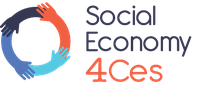 Unibo structure involved: Department of Management - DiSA 
Scientific manager: Federica Bandini
Unibo Team: Giuseppe Torluccio, Elena Barison, Francesca Regoli
Project Web page: Social Economy Forces (auth.gr)
Erasmus+ Action type: Cooperation for innovation and the exchange of good practices Knowledge Alliances for higher education
Project reference: 621511-EPP-1-2020-1-EL-EPPKA2-KA
Start Date: 1 January 2021
End Date: 31 December 2023
Budget
Total: € 989,966
UNIBO: €117,465.00
Coordinator: Aristotelio Panepistimio Thessalonikis (EL);
Partners:
Anaptyxiaki Karditsas Anaptyxiaki Anonimi Etairia O.T.A (EL)
Alma Mater Studiorum - Università di Bologna (IT)
A.I.C.CO.N. (IT)
Federation Europeenne de Finances et Banques Ethiques et Alternatives (BE)
Universidad Autonoma de Barcelona (ES)
Stimmuli for Social Change (EL)
Cooperatives Europe (BE)
University of Bristol (UK)
Summary
SE 4Ces responds to the needs for stronger collaboration among Higher Education Institutions (HEIs), social enterprises and local societies, improved employability based on transversal skills, more engaged citizens and connected societies and the need for innovative, multidisciplinary approaches for knowledge co-creation, co-teaching and co-learning under inclusive, collaborative and highly interactive educational environments. SE 4Ces builds on 4 Ces: Connected societies, knowledge Co-creation, Community development, Collaborative educational practices. It aims to mobilise those under the Social Economy (SE) framework. It introduces the SE Living-Labs as spaces for interaction, collaboration and knowledge co-creation between all stakeholders involved (HEIs, Social Economy organisations, students, teachers, community members) for the creation a Joint Professional online Master's programme on "SE and Community Development Strategies" that aspires to become the first joint international Masters programme in the area. SE 4Ces also includes a pilot phase in four countries (Spain, Italy, Greece and UK) testing the programme and its innovative elements such as the application of service-learning and the integration of real-life societal issues into curricula. Our project envisions to create, sustain and expand the first European Community of Practice in Social Economy, already consisting of the SE 4Ces partnership (9 partners), more than 20 associated universities and Social Economy enterprises and 9 world-renowned experts forming the SE 4Ces Scientific Advisory Council. This Network will establish growing and sustainable collaborations among HEIs involved in SE and with SE and community actors from a wide range of disciplines across Europe towards a transdisciplinary approach that would bring real and measurable results for the Social Economy.