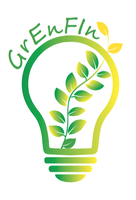 Unibo structure involved: Department of Statistical Sciences "Paolo Fortunati"; Department of electrical, electronic and information engineering "Guglielmo Marconi"- DEI; Department of civil, chemical, environmental and of the materials engineering – DICAM; Department of Economics-DSE, Department of Management-DISA;  Interdepartmental Alma Mater Research Institute on Global Challenges and Climate Change (Alma Climate).
Scientific manager: Silvia Romagnoli
Unibo Team: Monica Castagnari, Viola Laura, Giulia Palermo, Barbara Vetturini
Project Web page: https://grenfin.eu
Erasmus+ Action type: Knowledge Alliances for higher education
Project reference: 612408-EPP-1-2019-1-IT-EPPKA2-KA
Start Date: 1 November 2019
End Date: 31 October 2022
Budget: Total: € 997,267 UNIBO: € 154,510
Coordinator: ALMA MATER STUDIORUM - UNIVERSITÀ DI BOLOGNA (IT)
Partners: 
P1       Alma Mater Studiorum - Università di Bologna (UNIBO) – Italy
P2       Ludwig-Maximilians-Universität (LMU) – Germany
P3       Birkbeck College – University of London – UK
P4       Vienna University of Economics and Business (WU) – Austria
P5       University of Economics in Katowice (UEK) – Poland
P6       Université Paris-Dauphine (PSL) – France
P7       Tauron – Poland
P8       IMPA – Istituto Nacional de Matematica Pura e Aplicada – Brazil
P9       Hera – Italy
P10     PIXEL – Italy
P11     EGO Energy – Italy
P12     PSE – Planet Sustainable Energy – Portugal
P13     MIWEnergia – Spain
P14     SPEED Development Consultant – Greece 
Summary:
The transition to a low-carbon energy economy is fundamental to achieve the EU2030 climate and energy targets, yet it could bring risks (i.e. carbon physical and financial stranded assets) for the energy sector as well as for financial portfolios invested in energy companies. In order to understand and manage risks, as well as to recognize and exploit opportunities in the low-carbon energy transition, the sustainable energy expert of the future needs to dispose of an interdisciplinary background and skills in sustainable energy and finance, rooted on robust metrics and methods for investments' risk management. Developing and piloting on one hand a Joint Study Programme and on the other hand a Professional Module, the project intends to target both HE students and professional personnel already operating in the energy sector and whose skills gap needs to be covered. The GrEnFIn project develops an innovative educational program that promotes cross-fertilization among research domains. The educational program will be co-designed with a large forum of business stakeholders and practitioners reached by a widespread/diversified Consortium, and will be tested in summer schools and pilot classes. The successful outcome of the project will lead to the development of the first joint EU degree in green energy and finance. The quality and effectiveness of GrEnFIn education will be continuously monitored and evaluated in order to timely address potential critical points, thus maximizing the impact of the project. GrEnFIn's results will be disseminated and made accessible to academic and non-academic stakeholders via a virtual platform, which will be operating beyond the end of the project to innovate educational programs, interact and create a community of Sustainable Energy experts, to access to several facilities and services for enterprises. Thus, GrEnFIn will introduce a breakthrough in building skills in sustainable energy and finance, with a major societal and business impact.