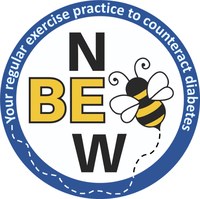 Unibo structure involved: Department of Biomedical and Neuromotor Sciences - DIBINEM
Scientific manager: Milena Raffi
Unibo Team: Milena Raffi, Alessandro Piras, Aurelio Trofè, Andrea Meoni
Project Web page: https://site.unibo.it/benew/it
Erasmus+ Action type: Sport Collaborative Partnerships
Project reference: 622371-EPP-1-2020-1-IT-SPO-SCP
Start Date: 1 January 2021
End Date: 31 December 2023
Budget:      Total: € 397,035      UNIBO: € 97,180 
Coordinator
ALMA MATER STUDIORUM – UNIVERSITÀ BOLOGNA (IT)
Partners
RADIOTELEVIZIJA SLOVENIJA JAVNI ZAVOD LJUBLJANA (SI)
ASOCIATIA JUDETEANA SPORTUL PENTRU TOTI SUCEAVA (RO)
UNIVERSIDAD DE LA RIOJA (ES)
DIMOKRITIO PANEPISTIMIO THRAKIS (EL)
UISP COMITATO TERRITORIALE DI BOLOGNA APS (IT)
SPORTNA UNIJA SLOVENIJE - ZVEZA DRUSTEV ZA SPORTNO REKREACIJO IN SPORTNO VZGOJO (SI) 
Summary
Diabetes is a serious disease, which can lead to various types of complications such as cardiovascular illness, nephropathy leading to renal failure, retinopathy with a potential loss of vision, and peripheral neuropathy. The incidence of diabetes is constantly increasing and there are many diabetic subjects belonging to disadvantaged categories who are unable to access adequate therapeutic programs. The purpose of the project is therefore to create specific training programs that can be used by diabetic people with both pre-diabetes and diabetes, to slow the onset of the pathology, counter the progress of the disease, and limit complications. This project will quantify the BEneficial effect of NEW educational and physical activity programs. Thus, the acronym BE-NEW indicates the need of pursuing a novel lifestyle incorporating the practice of physical exercise into the daily routine. Through the project realization, we sought to make diabetic subjects aware that the constant practice of physical exercise can significantly improve their health. The project includes two streams of work:
the development of sport protocols for diabetic people
the promotion of specific educational programs regarding teaching physical activity for children/adolescents with diabetes
Through the BE-NEW methodology, it will be possible to broaden the scientific knowledge of health benefits deriving from the practice of regular exercise on the diabetic population. Results of this physiological research will make an important contribution as we expect that the quantification of exercise-dependent changes on health of diabetic people will be of broad general use in clinical applications. This research will clarify some physiological mechanisms underlying diabetes by providing observations in a large group of subjects for a long period of time.