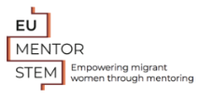 Sector: Adult Education
Unibo structure involved: Department of Management, Department of Education Studies
Unibo Team
Scientific Project Manager: Francesca Crivellaro
Team:Daniela Bolzani, Aurora Ricci, Elena Luppi, Giovanna Guerzoni, Francesca Regoli, Claudia Natali, Barbara Vetturini.
Project Duration in months: 24
Start Date: 01/11/2017
End Date: 31/10/2019
Budget: 284.447 euro  
Unibo Budget: 68.373 euro
Coordinator: Alma Mater Studiorum – Università di Bologna (Italy)
Partners
Greek women engineering association (GR)
Obudai Egyetem (HU)
Inova Consultancy LTD (UK)
WITEC SWEDEN (SW)
Description 
EUMentorSTEM seeks to foster the performance, learning and development of women with migrant background to consolidate their career in STEM (Science, Technology, Engineering and Mathematics) jobs in Europe (as paid employees or as entrepreneurs). The project aims at developing and testing innovative materials on mentoring and coaching (M&C) targeting  migrant women with a STEM background and the professionals working with them (career advisors, educators, recruiters, counsellors, etc.).  The learning and teaching materials will be shared in an online European knowledge hub in all partner languages.
The project is designed to take into account three critical intersections in Europe. First, the increasing influx of migrants. Second, the gender gap in STEM-related jobs. Third, the double disadvantage faced by highly-skilled migrant women in the labour markets.
EUMentorSTEM is innovative in contents in that it responds to specific needs of migrant women looking for a career in STEM in Europe, producing contents to fit migrant women with a STEM study or work background. It is innovative in approach, because (1) it assumes as necessary to support both migrant women and the professionals working with them; (2) it works with a bottom-up logic, developing materials based on a diagnostic assessment of beneficiaries' training needs. Furthermore EUMentorSTEM is innovative in methods, because it proposes teaching and learning methodologies combining M&C and action learning to support personal self-development.
The main project results will be the EUMentorSTEM Trainer's and the Learner's Kits, accompanied by a virtual hub for training and online community. Collateral outcomes will be dissemination and exploitation tools (public presentations, scientific and non-scientific articles). All project results will be available on the virtual hub (connected to EPALE platform) storing digital resources under open access that will be functioning for 1 year after the conclusion of the project.
The impact of the project is expected to be significant both numerically and in terms of empowering/building capacity of target groups; migrant women will benefit from workshops fostering their employability in STEM fields; professionals will receive training that will increase their skills in promoting migrant women's career in the STEM sector; and trainers in project partner organisations will extend their expertise on training mentors.
The project will therefore strengthen the links between female migrants and the European STEM labour market in need of skills and diversity, focusing on the social inclusion of adults through the provision of effective outreach, guidance and motivation strategies in the form of M&C and extending and developing professionals' competences.