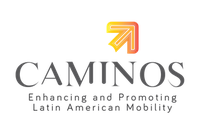 Sector: Modernisation of governance, management and functioning of higher education
Unibo structure involved: International Relations Division (DIRI)
Unibo Team: Romina Kniaz, Filippo Sartor
Website:
www.caminosproject.org/
Project Duration in months:  36
Start Date:  15/10/2016
End Date:  14/10/2019
Budget:  904.850 euro   
Unibo Budget: 28.264 euro   
Coordinator:
Asociacion Observatorio de Las Relaciones Union Europea America Latina (ES)
Partners:
Agencia Nacional De Evaluacion De La Calidad Y Acreditacion (ES)
Alma Mater Studiorum - Università di Bologna (IT)
Asociacion Colombiana de Universidades (CO)
Asociacion de Universidades Grupo Montevideo (UR)
Associacao Nacional dos Dirigentes das Instituicoes Federais de Ensino Superior (BR)
Consejo de Rectores de Las Universidades Chilenas (CL)
Consejo Interuniversitario Nacional (AR)
Deutscher Akademischer Austauschdienst Ev (DE)
Grupo Coimbra de Dirigentes de Universidades Brasileiras (BR)
Technische Universitaet Berlin (DE)
Universidad Catolica del Norte (CO)
Universidad de Aysen (CL)
Universidad de Ibague (CO)
Universidad de Investigacion de Tecnologia Experimental Yachay (EC)
Universidad de La Republica (UR)
Universidad de Magallanes (CL)
Universidad de Santander (ES)
Universidade de Coimbra (PT)
Universidade do Estado Da Bahia (BR)
Universidade Federal de Sao Carlos (BR)
Universidade Federal do Rio Grande Do Sul (BR)
Universidad Nacional de Chilecito (AR)
Universidad Nacional del Sur (AR)
Universidad Tecnica Particular de Loja (EC)
Universita degli Studi di Roma La Sapienza (IT)
Universitat de Barcelona (ES)
Université de Montpellier (FR)
Description
CAMINOS deepens the Latin American Higher Education by improving the capacity of universities, associations and networks to enhance, promote and manage regional Latin American student and staff mobility. Specifically, the project will develop a common mobility management model (defined by a Handbook) to this effect, premised upon and linking existing Latin American bi/multi-lateral mobility programmes.
The project will have three essential phases:
A research phase for mapping a) existing South American mobility schemes and their management practices and rules b)the actors and universities that participate in them.
A development phase for the generation of a Handbook that will provide concrete advice to universities and networks/associations on how to enhance and promote mobility in the region. Focus groups on topics such as mobility management, credit transfer, recognition, institutional partnerships and joint degrees will be organized to help draft the institutional case studies on these topics.
A pilot phase, whereby the Handbook will be applied by both the partner associations/networks and the partner universities to their regional student mobility programmes. This can include applying learning agreements and credit transfer schemes, building a website for promoting mobility in the region, etc. Capacity will be built in international relation offices of the partner universities through the pilots.
CAMINOS involves universities from Brazil, Argentina, Uruguay, CAMINOS also reflects the interest to better promote 'structured' mobility and staff mobility. harmonization. The project responds to the fact that LA regional mobility is a growing priority as it fosters academic cooperation and regional integration.