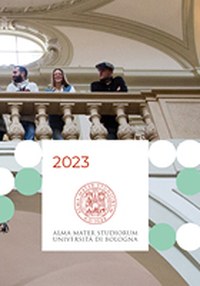 The University of Bologna is made up of 31 Departments and 5 Schools.
There are also 7 Interdepartmental Research Centres and 12 interdepartmental research and/or training facilities.
98 libraries and facilities provide bibliographic and documentary services to support education as well as teaching, research, professional and cultural activities. The University Museum Network comprises 15 Museums and Collections dedicated to various disciplines.
93,753 students have chosen the University of Bologna (2021/22 a.y.), including 7,630 international students. A total of 1,036,109.13 square metres are allocated to curricular and extracurricular activities in the following locations: Bologna, Cesena, Forlì, Ravenna and Rimini.
7,734 international students took part in exchange programmes and 3,115 University of Bologna students spent a period of study abroad in 2021/22 a.y.
252 Degree Programmes are on offer in 2022/23 academic year, of which 101 first-cycle Degree Programmes, 137 second-cycle Degree Programmes and 14 single-cycle Degree Programmes. They include 96 international Degree Programmes, 79 of which are taught in English.
48 PhD Programmes (2021/22 a.y.), 56 Specialization Schools, and 92 first and second-level Professional Master's Programmes are also on offer.
6,227 people work at the University of Bologna, including 3,122 members of the teaching staff and 3,105 members of the professional staff.
Since January 2023, there are 11 Departments of excellence funded by the Italian Ministry of Universities and Research.
Over 530 of our research projects are funded by the EU, more than 230 received national funding and over 440 received regional and local funding.
28 projects were approved under the Italian National Recovery and Resilience Plan (NRRP).
There are 40 active and accredited spin-offs and 14 start-ups; our patent portfolio includes
599 active patents.
Data current as of 10/03/2023.