Ravenna Campus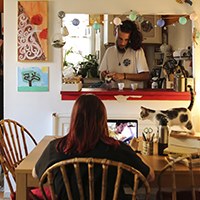 Accommodation and residences in Ravenna
Although Ravenna Campus does not offer accommodation service, you can find here below some useful tips to help you finding an accommodation in Ravenna:
Fondazione Flaminia
Fondazione Flaminia provides accommodation services for students. Their Call for Applications is usually out every year in July. For more detailed information and application deadlines, see:
https://www.fondazioneflaminia.it/studenti/posti-alloggio


Facebook Groups
Notice boards
Once you are in Ravenna, a useful option is to look for advertisements on the notice boards
Palazzo Corradini, Via Mariani, 5. Entrance hall, right-hand side - 
Via Oberdan, 1. Entrance hall on the ground floor
Via Tombesi Dall'Ova, 55. Entrance hall, left-hand side
Palazzo Santa Croce - Via Guaccimanni, 42. Near the vending machines (at the entrance hall go straight on, then turn right) at ground floorVia Sant'Alberto, 163, Blocco aule in front of "Renzo Sartori" laboratory, in the entryway
Palazzo Verdi, Via Pasolini, 23. At the reception - ground floor
Short term accommodation
Looking for a temporary hotel accommodation enabling you to settle down and search for the rest of your University stay once in Ravenna? 
Ufficio Informazioni Turistiche / I.A.T. Ravenna
Piazza San Francesco 7 - Ravenna
iat@ravennareservation.it
tel. +39 0544 482838


Contract
Please note: please be aware that in order to apply for the residence permit and to apply for ER.GO scholarship, you will need to submit a copy of accommodation lease contract.