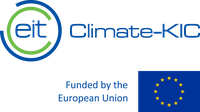 Two courses of the University of Bologna during 2017 and three during 2019 obtained the EIT Label accreditation, which enables selected students to participate in innovative education programmes in Italy and abroad.
The last edition of the Climate KIC Master School EIT Label programme took place in A.Y. 2019/2020. The program, with nearly ten years of experience in empowering and enabling students to act on climate challenges, involved student in the following activities:
Journey: a 5-week itinerant European Summer School where they could develop skills and test business ideas to find solutions to real-world challenges and meet other inspiring change-makers from all over Europe;
Spark! Experiences: a series of network events and talk on issues related to climate change and climate innovation held by international professors and professionals;
Complementary courses on topics related to climate innovation and entrepreneurship, held at the University of Bologna or other Climate KIC partner universities;
Mobility: international study activities for conducting thesis research or internships abroad;
Thesis project with a focus on a topic related to climate innovation.
For a.y. 2020/21, Climate KIC selected 23 students from the University of Bologna to participate in the Climate Innovation Leadership (CIL) pilot program which takes place from February 2021 to December 2021 on the foundations of the EIT Label framework. The one-year pilot program empowers university students from all disciplines and levels to become a new generation of change leaders with an entrepreneurial and systemic innovation mindset. CIL provides participants with up-to-date knowledge on climate change challenges in terms of adaptation, mitigation, science, and policy. It does so by enhancing three dimensions:
Inspiration – attendance at Spark! provoking lessons and courses with complementary content;
Experiential learning - participation in a Journey Summer School and carrying out of a personal challenge-based project;
Personal development – participation in regular interdisciplinary and international group coaching sessions.