Università di Bologna
About Unibo
The University of Bologna and environmental sustainability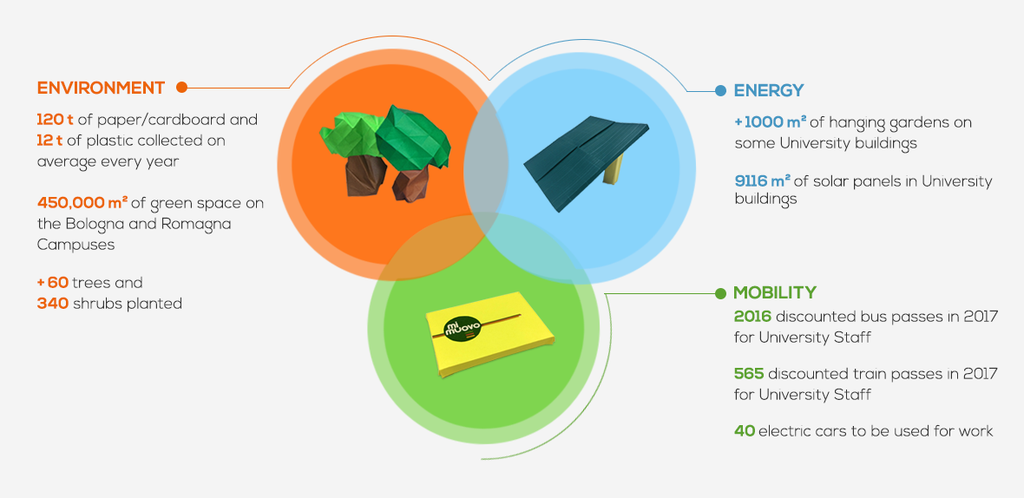 The Alma Mater's commitment to environmental sustainability focuses on three areas: energy, mobility, environment.
Energy optimisation and consumption reduction: Over 1000 square metres of hanging gardens; 9116 square metres of solar panels.
Low-impact urban mobility: 2016 discounted bus passes in 2017 for University Staff; 565 discounted train passes in 2017 for University Staff; 40 electric cars to be used for work.
Environmental protection: An annual average collection of 120 t of paper/cardboard and 12 t of plastic; 450,000 square metres of green space on the Bologna and Romagna campuses; Over 60 trees and 340 shrubs planted.
THE CAMPUSES OF THE UNIVERSITY OF BOLOGNA
Read about the Campuses of the University of Bologna and the Campus in Buenos Aires
STRUCTURES
Departments, Schools, Centres, other structures constitute the cultural, teaching and research nucleus of the University of Bologna