Ravenna Campus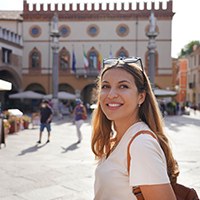 Do you want to know the university locations where you will spend the next upcoming years?
Contact the Guidance Tutor at the email campusravenna.orientamento@unibo.it to fix the meeting date.
In addition of helping you know the places you will frequent the most, you will have also a lot of useful information for your university life.
The tour can be carried out both in presence and in virtual mode.
What are you waiting for?