Cesena Campus

Accommodation and residences - Cesena
ER.GO (Regional Agency for the Right for Higher Education)
To find a place at ER.GO university residence, students are required to apply for a Call of competition which is generally published during the month of July, every year. Students complying with the required income and merit requisites can only apply for the call.
Student Residences in Cesena:
- Palazzo Urbinati, located in the city centre.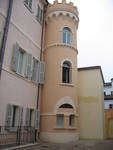 - La Torre, located a short walk from the Campus of Cesena.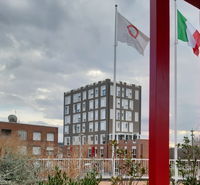 All Residences offer single or double rooms with a shared kitchen, studying rooms and Alma Wi-Fi connection.
Ser.In.Ar. - Il Faro
The "Il Faro" is the service of Ser.In.Ar. which manages accommodation for university students in apartments and dormitories at controlled prices.
For further information, please visit: https://www.serinar.unibo.it/en/student-accommodation/
Informagiovani Service of the Municipality of Cesena
The Informagiovani Service of the Municipality of Cesena offers a list of useful contacts for international students who need to find an accommodation within the territory of Cesena.
To visit the Service page (in Italian), please click here.
IAT - Turismo Cesenate
This is the Official Tourist Office for the Municipality of Cesena, and it offers information about hospitality structures in Cesena and its surroundings.
To visit the IAT page (in Italian), please click here.
Student Associations or Clubs
International students may also turn to the Student Associations or Clubs based at the Campus of Cesena to get information or advice about the availability of rooms or flats across the city.
Please visit the pages of the Student Associations/Clubs by clicking here.
Call for applications for the allocation of grants for the rental costs of non-resident students (fuori sede)
The University of Bologna is making available 600 grants of €1,000 each to reduce the rental costs incurred by those studying away from home.
The call for applications opens on 1 September 2023 and expires on 30 November 2023 at 18:00.