About Unibo
JOIN THE OLDEST UNIVERSITY IN THE WESTERN WORLD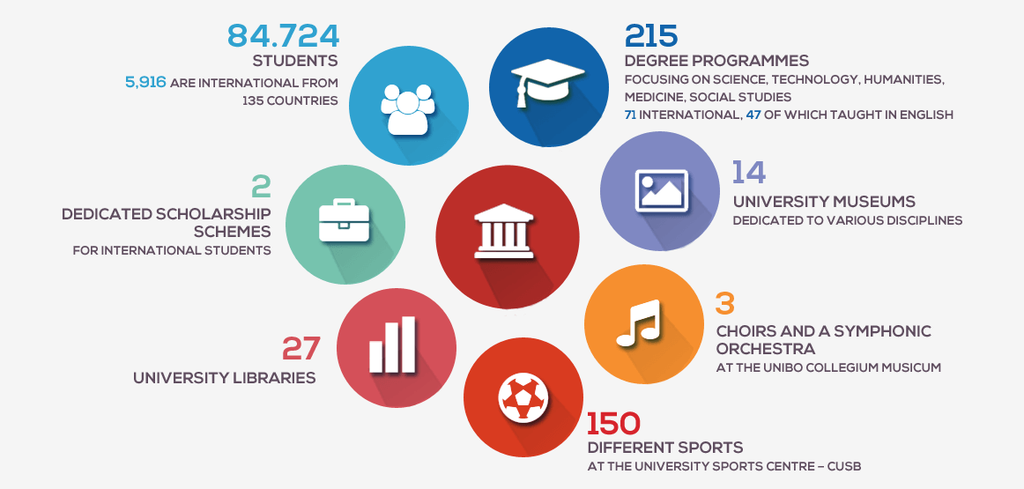 There are 84,724 students enrolled in degree and post-degree programmes at the University of Bologna. 5,916 are international students and come from 135 different countries (data refers to A.Y. 2015/16).
The University of Bologna's programme catalogue offers multiple discipline options: Science, Technology, Humanities, Medicine, Social Studies. There are 215 active degree programmes for the 2017/18 academic year (71 are international courses, 47 of which are held in English).
Students have access to a wide range of economic benefits, based on merit and/or income. The University of Bologna offers international students two dedicated scholarship schemes: Unibo Action 1 and Unibo Action 2.
27 libraries, 14 university museums, 3 choruses and the Collegium Musicum sinphonic orchestra, and 150 different sports activated by CUSB – University Sports Centre of Bologna, contribute to enrich the students' experience.
THE CAMPUSES OF THE UNIVERSITY OF BOLOGNA
Read about the Campuses of the University of Bologna and the Campus in Buenos Aires
STRUCTURES
Departments, Schools, Centres, other structures constitute the cultural, teaching and research nucleus of the University of Bologna