Home page
About Unibo
Tradition and innovation in teaching, research and third mission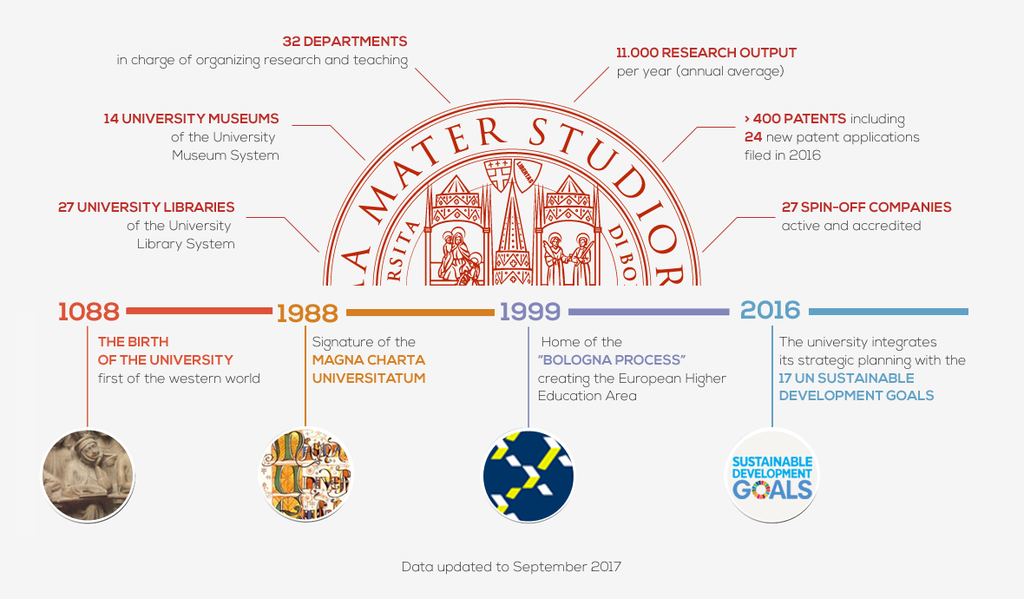 Irnerio's law school marks the birth of Western universities in 1088.
The Library System, which comprises 27 libraries, is the coordinated set of libraries and facilities that provide bibliographic and documentary services to the University.
The University Museum System comprises 14 structures - counting both Museums and Collections - dedicated to various disciplines.
In 1988 500 European universities meet in Bologna to sign the Magna Charta Universitatum.
In 1999 the Bologna Declaration, creating the European Higher Education Area (Bologna Process), was signed.
The 33 Departments are the University structures in charge of organizing scientific research and teaching and learning functions.
Alma Mater produces 11.000-research output per year (annual average).
The University of Bologna filed 24 new patent applications in 2016, thereby giving rise to an active patent portfolio of over 400 patents.
The University of Bologna set up or affiliated 27 spin-off companies.
In 2016 the university integrates its strategic planning with the 17 UN Sustainable Development goals.
THE CAMPUSES OF THE UNIVERSITY OF BOLOGNA
Read about the Campuses of the University of Bologna and the Campus in Buenos Aires
STRUCTURES
Departments, Schools, Centres, other structures constitute the cultural, teaching and research nucleus of the University of Bologna