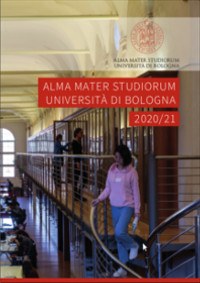 5 Campuses (Bologna, Cesena, Forlì, Ravenna e Rimini).
32 Departments of the University of Bologna and 5 Schools.
11 Research and Training Centres.
306 Research projects funded by the European Union within H2020, and 50 within other European frameworks, more than 130 PRIN projects funded by MIUR (Italian Ministry of University and Research) and more than 214 funded by the Emilia-Romagna region.
35 spin off and 11 start up active businesses;more than 470patented titles.
87,590 students have chosen the University of Bologna (a.y. 2019/2020), making it the most popular university in Italy. Teaching and extra-curricular activities take place in 1,162,506.81 m2 of space in the campuses of Bologna, Cesena, Forlì, Ravenna and Rimini.
221: Degree Programmes (a.y. 2018/19): 91 first cycle 3-year programmes, 117 second cycle programmes and 13 single cycle programmes.
232 Degree programmes (a.y. 2020/2021) of which 84 are International, among them 68 are delivered in English.
48: PhD programmes (a.y. 2019/2020), 53 specialisation schools, 86 first and second level professional master's programmes, 14 of which are international.
2,366: international students from abroad on exchange programmes and 2,811 students enrolled at the University of Bologna who spent a study period abroad in the a.y. 2019/2020
5,778 people are part of the university community: teaching (2,842) and services staff (2,936)
The library system offers access to 50,000 on-line journals, 400,000 e-books and 753 databases.
1,300 wi-fi access points, 2 server farms with 590 virtual servers.
850 classroom are equipped for distant learning; 4,455 education activities are available online.
Since the start of covid emergency, more than 166,000 exams and more than 10,850 graduation discussion were performed online.
Data updated to 30 October 2020.
Don't miss this information. Accept cookies from YouTube.
Review your preferences