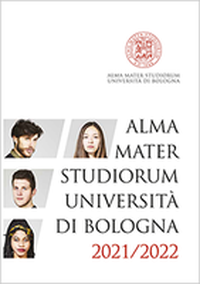 The University of Bologna is made up of 32 Departments and 5 Schools.
12 Research and Training Centres.
350 EU-funded research projects as part of H2020 and 49 as part of other European initiatives, more than 190 PRIN projects, i.e. Research Projects of National Interest, funded by MIUR (Italian Ministry of Education, University and Research) and more than 285 projects funded by the Emilia-Romagna Regional Government.
37 spin-offs and 12 startup companies, all accredited; 520 patent titles.
90,291 students chose the University of Bologna (A.Y. 2020/2021) including 7,062 international students. A total of 1,036,109.13 square metres are allocated to curricular and extracurricular activities in the following locations: Bologna, Cesena, Forlì, Ravenna and Rimini.
243 Degree Programmes (A.Y. 2021/2022), of which 97 First cycle Degree Programmes, 132 Second cycle Degree Programmes and 14 Single cycle Degree Programmes.
96 international Degree Programmes, of which 79 are held in English.
48 PhD Programme Degrees (A.Y. 2020/2021), 55 specialization schools, 95 First and Second level Professional Master's Programmes, of which 19 are international.
1,321 international students taking part in exchange programmes and 1,908 students enrolled at the University of Bologna who have spent a period of study abroad in A.Y. 2020/2021.
5,882 people are part of the university community, including teachers (2,917) and professional staff (2,965).
55,000 online publications, more than 620,000 electronic books and more than 800 databases accessible via the University Library System.
1,300 wireless Internet access points and 2 server farms with 550 virtual servers.
805 classrooms equipped for blended learning and more than 9,300 training activities available online.
Since the outbreak of the Covid-19 pandemic, more than 461,000 exams have been taken and more than 21,300 degrees have been awarded online.
Data current as of 30/08/2021.
Don't miss this information. Accept cookies from YouTube.
Review your preferences