Director General
In line with the instructions issued by the Board of Governors, the Director General is responsible for the general management and organisation of the university services, resources and technical-administrative staff, as well as the tasks required under the statutory provisions governing public administration management.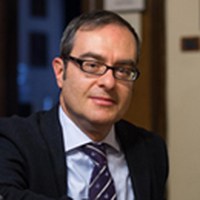 Dr. Marco Degli Esposti
Director General
He was born in Bologna in 1966, he graduated in Business and Economics at the University of Bologna and obtained a specialisation in administrative law and administration sciences at SPISA (Specialisation School for Public Administration Studies).
His career, which began in 1993, has developed exclusively within the University,where he has held positions as administrative secretary for different structures, going on to manage the General Administration contracts and agreements division.
He first became a University director in 2003, at the Contracts and General Administration, institutional and partnership Division, the scientific-teaching Forlì campus and the lecturer and assistant professor personnel services division and General Administration Division.
Dr. Degli Esposti has also held other offices at the University. Specifically, he was a member of the University Board for two mandates (from 1999 to 2005) and member of the University Executive Committee for the 2002-2005 mandate. He is member of the Board of the Alma Mater Foundation, Fanti Melloni Foundation and Zeri Foundation.
He currently represents the University of Bologna in the coordination committee of public bodies which exercise control equivalent to that of ASTER, a regional company for the innovation of productive systems through collaboration between research and enterprise.