Training for nursery, primary and secondary school teachers

Teaching in pre-school and primary schools
The single cycle degree in Science of Primary Education is the qualification necessary to teach in pre-school and primary schools.
Teaching in secondary schools
The recruiting system for first and second grade secondary school teachers requires, in addition to the possession of a valid teaching qualification in a specific class,
the possession of 24 CFUs in basic anthropological, psycho-pedagogy disciplines and teaching methodologies and technologies.
Vocational training course for special needs teaching
The vocational training course for special needs teaching aims to provide teachers with special skills in educational activities that promote the integration of pupils with special needs. At the end of the one-year course, students receive a specialisation diploma for special needs teaching activities.
Lifelong learning programmes for in-service pre-school, primary and secondary school teachers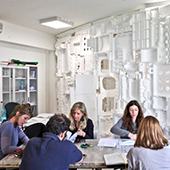 Law 107/2015 defines a new framework for the career development of all school employees. The University of Bologna offers lifelong and continuing learning programmes to in-service teachers in all types of schools and at all levels.