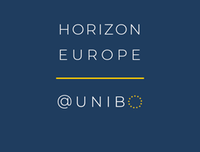 The new Horizon Europe European Framework Programme, from 2021 to 2027, is the most ambitious European funding programme to date.
For some time now, the University of Bologna has been revising its strategic and organisational guidelines in preparation for this new framework programme.
To this end, it started by actively and proactively participating in the co-design process, initiated in 2018 by the European Commission, to devise a new programme and its strategic and implementation guidelines.
Internal actions were also undertaken to increase support for competitive research, facilitate networking of internal expertise and external collaborations, broaden the participation of research teams in funding opportunities, and prepare the academic community and support staff for the challenges posed by this framework programme.
This is how the HorizonEurope@Unibo Plan came into being: a series of meetings (40 in total in the 2020-2021 period) on the structure of the programme and its novelties such as partnerships and mission, planning techniques, detailed insights on Open Access and Open Data, impact, privacy and gender issues, and citizen engagement. The HorizonEurope@Unibo Plan also involves creating informative material, including texts and videos, to keep its staff up to date.
All the details of the HorizonEurope@Unibo Plan are available in the University intranet (login with University of Bologna credentials required).
Open Science and Gender Equality are certainly among the focus points in this new seven-year period of research and innovation funding.
The University of Bologna has long included Open Science in its 2019-2021 strategic plan and has developed a University policy based on open access to research publications and data and approved its Gender Equality Plan-GEP.
More information on how the University supports its research groups as part of Horizon Europe is available in the dedicated intranet section (login with University of Bologna credentials required).
The Science/Business report on the first experiences is now online.