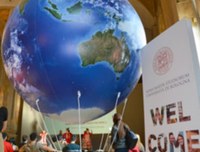 The University of Bologna is the most international university in Italy and among the most international universities in the world. This is what the Times Higher Education reports in its "Most international universities in the world 2020", ranking universities in terms of their internationalization outcomes.
Compared to last year's performance, UniBo climbs 23 positions, going from 123rd to 100th in the world ranking. This is a great result: if we consider that there are 26,000 universities in the world, the University of Bologna firmly sits in the 1% most international universities worldwide. Among the 170 entries of the Times Higher Education ranking, only two Italian universities: the Alma Mater is the first one (number100 in the world raking) and Sapienza Università di Roma is the second one (number 114 in the world ranking).
This ranking employs data from the World University Rankings 2020, which was released in September 2019. In particular, it focuses on the metrics measuring the international features of universities, such as international students, visiting scholars, research collaborations with universities around the world and international reputation of the institution.
Published on: 04 February 2020