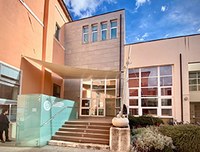 The reopening of the library is scheduled for 11 September 2023.
The following services are already active:
online reference
remote bibliographic searches
document delivery
interlibrary loan
Maturing loans are extended until Monday 11 September.
For expiring interlibrary loans, request an extension by writing to campusravenna.interbibliotecario@unibo.it
For information, returning materials and requesting appointments, write to campusravenna.biblio@unibo.it; biblio.scienzeambientali@unibo.it
For more information, consult the Campus Library page.
Published on: 31 August 2023