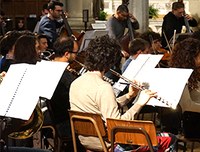 Do you study in Ravenna and play a musical instrument? Take it with you! 
Join the orchestra of the Istituto Superiore di Studi Musicali, or under the guidance of the Institute form a musical group with other young people who like you attend the University in Ravenna. 
Auditions in September 2021.
Participation is free.
To find out more write to: stilyananikolova@comune.ravenna.it
Visit the website: www.verdiravenna.it
Published on: 12 July 2021