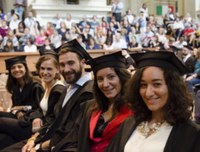 The University of Bologna is the first university in Italy in the world's top 100 of the new QS World University Rankings by Subject. The Alma Mater makes it among the first 100 universities in the world with 21 subjects: a stunning result which we share with only 70 other universities globally.
The QS World University Rankings is one of the most prestigious international university rankings. Its ranking by subject gathers information about more than 13,000 degree courses in approximately 1,400 universities. The 2020 list was published today.
The University of Bologna populates the top 100 end of the rankings with 21 subjects, of these 4 disciplines are among the top 50 in the world: position 19 for Classics & Ancient History, 39 for Modern Languages and Agriculture & Forestry, and Dentistry in position number 40. If we look at subject areas, i.e. macro-areas of knowledge containing each single discipline, the Alma Mater makes it to the top 100 with three subject areas: Arts & Humanities, Sciences & Management and Life Science & Medicine.
Rector Francesco Ubertini commented on the news as follows: "these results confirm that high quality characterizes all fields of knowledge here at the University of Bologna". "They also represent a reward both for our researchers and professors with their high expertise and skills, and for the great investments we have done in recent years in the fields of training, research and student services".
The methodology followed by QS World University Rankings by Subject encompasses four sources, which are combined and weighted for each discipline. The four components of the rankings are: Academic Reputation, i.e. the academic prestige of universities in the world; Employer Reputation, i.e. how employers evaluate graduates they recruit; Citations per Paper, i.e. the scientific impact of research of this or that university; H-index, i.e. a way of measuring both the productivity and impact of the published work of researchers.
Published on: 04 March 2020