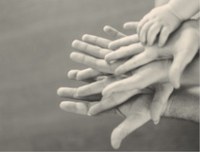 The service "I'll take care of you" ("Avrò cura di te") is now active. This service is carried out by teaching staff members of the Department of Psychology of the University of Bologna and intends to provide professional psychological support to caregivers, like parents of teenagers and preschool- or school-aged children as well as relatives of old or severely ill people.
The Covid-19 pandemic and the related health emergency have made this project increasingly necessary. Indeed, the pandemic represented an additional burden for our community, as the closure and limited availability of services entailed an increase in family-related commitments (including caring for children and other family members) and the need for restructuring everyone's work-life.
Members of the Unibo community may book free support (face-to-face or online) sessions by following the instructions on the Unibo Portal.
Parenting support, autonomy development for pre-school children, awareness in technology use, development of peer-relational skills, and bullying and cyber-bullying prevention. These are the main focus areas of this service, whose reference persons are professors Elena Trombini, Annalisa Guarini and Rabih Chattat.
Published on: 01 February 2021