Ravenna Campus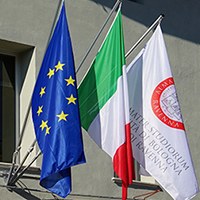 The new Campuses are the final outcome of a process set in motion by the Education Ministry back in the 1980s, when it was decided to de-congest the so-called "mega-universities". They were faced with the choice: either to split and form independent universities, or to create decentralized units of the mother university.
Bologna University here opted for a special form of decentralization, a Multicampus model whereby four Romagna towns were established as teaching centres for certain degree programmes; some of these transformed into Faculties and now into vice chairmanships of the respective Schools, giving rise to Departments.
In the overall design of the University each Campus is gradually to take on a special character of its own reflected in study and research fields and the programme catalogue, thereby drawing on local features and vocations.
On Ravenna Campus we have 19 degree programmes, the Department for the Cultural Heritage, five organizational units of Departments based in Bologna, a Scuola Superiore for Studies on the Town and Territory, and an Inter-departmental research Centre for Environmental Science (CIRSA). The Campus also hosts three Inter-departmental Centres for Industrial Research (CIRI) forming part of the Technopolis Project.
The Campus is equipped with advanced research facilities and expertise offering top-ranking scientific and professional education in several areas of learning: 8 first-cycle degrees, 5 second-cycle degrees, 3 second-cycle international degreee 3 single-cycle combined international Bachelor and Master degrees. The teaching venues are located in Ravenna and in Faenza.
The Campus brings you a lively university scene with roots that go deep into the local territory, and a town that welcomes you with its wealth of history, culture and art. Here you may live and study in a calm yet intellectually stimulating atmosphere.