Ravenna Campus

The Palazzo Corradini Central Library
A facility serving students, teachers and researchers at the Department of the Cultural Heritage (DBC) and on degree programmes at the Schools present at Ravenna: Law; Engineering and Architecture; Arts, Humanities and Cultural Heritage; Medicine and Surgery; Science (Technologies and Diagnostics for conservation and restoration of cultural heritage, Science for the conservation & restoration of the cultural heritage) and Political Science.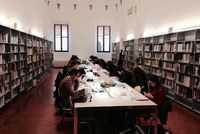 About the library
Founded in 1996, the library occupies part of Palazzo Corradini and took its present form in 2014. The reading rooms are 380 m2 in size with seating for 56 persons. There are 10 Internet workstations for bibliographical research.
Books under the reference term BIBLIO and REFERENCE are on open shelves arranged by subject matter and Dewey Decimal Classification. Volumes with any other reference must be ordered from the lending desk.
The rooms are air-conditioned and easily accessible.
Subjects covered
The Library specializes in anthropology, archaeology, architecture, art, library science, conservation and restoration, law, building engineering, music, oriental studies, history, literature and language studies.
Staff
The library is run by 6 librarians helped by student part-timers and civilian volunteers.
The library manager is Chiara Semenzato.
Scientific Board
The Scientific Board is the constituent body of the library.
Members and duties.