Ravenna Campus

The Palazzo Corradini Central Library
A facility serving students, teachers and researchers at the Department of the Cultural Heritage (DBC) and on degree programmes at the Schools present at Ravenna: Law, Engineering and Architecture, Arts and the Cultural Heritage, Science (Technology and Diagnostics for conservation and restoration of the cultural heritage); Science for the conservation & restoration of the cultural heritage) and Political Science.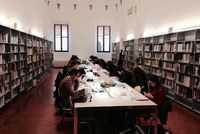 From Monday 14 September Palazzo Corradini location will be open Monday-Friday 9:00-24:00, Saturday & Sunday 9:00-18:00
The Library will have public health protocols in place, including limited capacity, hand sanitizing stations and physical distancing. All staff and visitors are required to wear a face mask all the time in the library. Visitors information will be collected at the entrance for contact tracing purposes.
Library services
Loan: we invite all our Library users to place requests through the Book Catalogue (max 5 items). See the instructions
Return: books on loan can be returned thanks to a box placed at the entrance of Palazzo Corradini, Via Mariani 5.
Returned books will be available for the users after three days of quarantine.
Library spaces: all users are admitted to the Library reading rooms. No reservation is required.
About the library
Founded in 1996, the library occupies part of Palazzo Corradini and took its present form in 2014. The reading rooms are 380 m2 in size with seating for 56 persons. There are 10 Internet workstations for bibliographical research.
Books under the reference term BIBLIO and REFERENCE are on open shelves arranged by subject matter and Dewey Decimal Classification. Volumes with any other reference must be ordered from the lending desk.
The rooms are air-conditioned and easily accessible.
Subjects covered
The Library specializes in anthropology, archaeology, architecture, art, library science, conservation and restoration, law, building engineering, music, oriental studies, history, literature and language studies.
Staff, Scientific and Technical Director
The library is run by 6 librarians helped by student part-timers and civilian volunteers.
The Managing Coordinator is Chiara Semenzato.
Scientific Board
The Scientific Board is the constituent body of the library.
Members and duties.