Ravenna Campus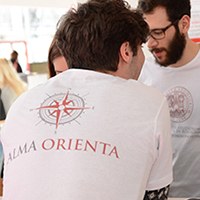 This service is free and aimed at fourth/fifth year high school students.
The aim is to promote the knowledge of university system, introduce the range of degree programmes and services offered by the University of Bologna, including its Guidance and Counselling services. The meeting is to support the students in their choice of a Degree Programme.
The meetings last normally for about two hours.
The ideal size of a focus group is not more than 25-30  participants, one single class or mixed, which is to ensure the co-involvement and dialogue between the students.
The only requirement from a high school is the availability of a PC workstation, a video-projector, a projection screen and a blackboard.
For further information and bookings, please contact the Guidance Service per e-mail: campusravenna.orientamento@unibo.it.