Cesena Campus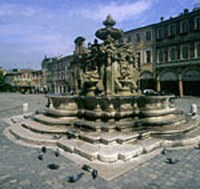 The first dawning of university at Cesena probably dates from 1504 when Julius II authorized the forming of a Juridical College of Cesena. From the College of Jurists there stemmed a long chapter of acknowledgments denoting a tenacious determination to create a public Studium in this Romagna town. In 1534 the College of Jurists approved a statute, with privileges and decrees, and in 1561 Pius IV erected a College of Physicians and Philosophers.
In 1675 Clement X issued a motu proprio confirming the privileges "Universitatis Caesenae eiusque Collegiorum et Collegium Juristarum amplioribus facultatibus decoratur". This was an act of confirmation, not foundation, of the Cesena Studium which, the heading reveals, was already in existence – a fact that no previous papal bill had deigned to notice. The two Colleges of Jurists and of Physicians & Philosophers had themselves outgrown their earlier profile as urban institutions, and now had all the trappings of university colleges. No such evolution can be traced in similar instances, such as Forlì's College of Jurists.
In 1796 Pius VI ruled that degrees conferred by the Cesena Studium should to all intents and purposes be subsumed by those of the principal universities of the Pontifical State. On17th November 1800 the privileges underpinning the right to create 'dottori' were declared null and void: the Cesena Studium might be deemed to have lapsed once and for all, amid sporadic protests and paltry resistance.
Having lost the traditional corporative structure of its professional colleges, Cesena proved unable to produce convincing arguments for reactivating its university until 1989, when a Degree Programme in Information Science was instituted there as an offshoot of Bologna University. The new degree programme owed much to the local Cassa di Risparmio whose specially constituted company, SER.IN.AR. S.p.a., was instrumental in supplying laboratories, a library and other teaching facilities – a milestone in Bologna University's outreach towards a territory that had hitherto lacked university centres.
Over the years, with generous contributions from local institutions and determined backing by the University, the programme catalogue swelled in size to ten first-cycle and ten second-cycle degree programmes. Meanwhile new facilities were built or purchased to house lecture rooms, offices and more up-to-date laboratories.
2001 saw the establishment of the Cesena Scientific-Teaching Centre, to form part of the Bologna University Multi-campus Project, broadening the programme catalogue and setting up a stable base for local research. The Cesena Centre set up schemes to enhance teaching quality, provide suitable student services, support research, boost relations between University and the business world, and create career opportunities for its graduates.
With the new Bologna University statute in 2012 the scientific and teaching centre became a Campus, responsible for organizing and coordinating support for teaching and research as conducted by the Departments and Schools that use the Cesena Campus.
One future plan is to build premises for the School of Engineering and Architecture. This will form part of the urban upgrade project for the former Sugar Factory, which will, in turn, house living accommodation, offices and residences for students and teachers.
When complete with renovation of Palazzo Urbinati, Palazzo Romagnoli, Villa Almerici, and Palazzo ex Arrigoni, the Cesena Campus will form an advanced polytechnic, with highly functional facilities and services in common, united as an institution though physically deployed across, and strictly linked to, the old town centre.