About Unibo
Mobility and cooperation for an international education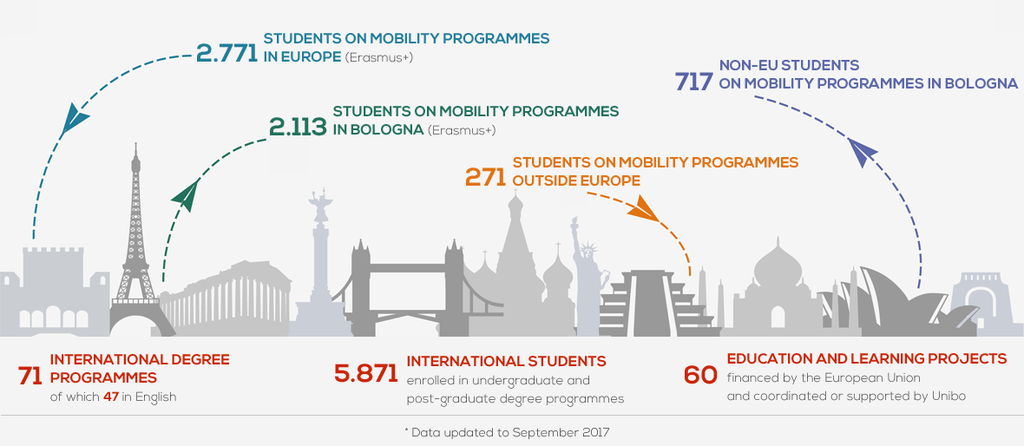 The University of Bologna offers a variety of excellent degree programmes at international level. In particular, the 2017/18 programme catalogue offers 71 international degree programmes, of which 47 in English. Some degree programmes are offered in collaboration with foreign Universities and may award joint degrees (JD) or double/multiple degrees (DMD); a number of these are Erasmus Mundus Joint Master Degree programmes, now EMJMD (EM).
As many as 5,871 international students enrolled for undergraduate and post-graduate degree programmes in the 2017/2018 academic year.
The University of Bologna ranks first in Italy for the number of students abroad and the amount of funding received under Erasmus+, and is placed among the top 5 universities in Europe in terms of the number of exchange students.
During 2016/2017 there were 2,771 Unibo students on mobility programmes in Europe, while 2,113 European students came to Bologna under the Erasmus+ programme. At the same time, 271 Unibo students went outside the European Union on mobility programmes and 717 non-EU students came to Bologna.
The University coordinates or participates in more than 60 education and learning projects financed by the European Union, with the principal objective of improving University education and, in general, education at all levels via international and other initiatives.
THE CAMPUSES OF THE UNIVERSITY OF BOLOGNA
Read about the Campuses of the University of Bologna and the Campus in Buenos Aires
STRUCTURES
Departments, Schools, Centres, other structures constitute the cultural, teaching and research nucleus of the University of Bologna