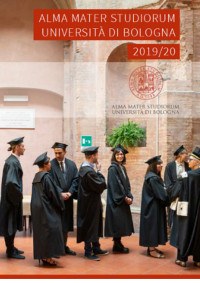 5:  the Campuses (Bologna, Cesena, Forlì, Ravenna e Rimini).
32: the Departments of the University of Bologna and 5 Schools.
10: Research and Training Centres.
230 Research projects funded by the European Union within H2020, and more than 50 within other European frameworks, more than 130 PRIN projects funded by MIUR (Italian Ministry of University and Research) and more than 170 funded by the Emilia-Romagna region.
87,758: the students who have chosen the University of Bologna (a.y.  2017/18), making it the most popular university in Italy. Teaching and extra-curricular activities take place in 1,162,506.81 m2 of space in the campuses of Bologna, Cesena, Forlì, Ravenna and Rimini.
221: Degree Programmes (a.y. 2018/19): 91 first cycle 3-year programmes, 117 second cycle programmes and 13 single cycle programmes.
78: International degree programmes, 62 of which are delivered in English.
47: PhD programmes (a.y. 2017/18), 53 specialisation schools, 80 first and second level professional master's programmes, 14 of which are international.
3,079: international students from abroad on exchange programmes and 3,341 students enrolled at UNIBO who spent a study period abroad in 2016.
5,733 people: the university community of teaching (2,771) and services staff (2,962)
The library system offers access to 50,000 on-line journals, 400,000 e-books and 753 databases.
1,300 wi-fi access points, 2 server farms with 590 virtual servers.
Data updated to 15 November 2019.
Don't miss this information. Accept cookies from YouTube.
Review your preferences