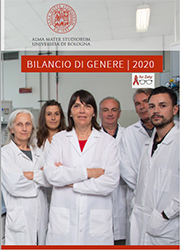 Now in its sixth edition, the Gender Equality Report provides a detailed overview of our University's gender composition, including students, teachers and professional staff. This document is a yearly reminder that we still have many changes to make if we genuinely believe that the young people we are educating have the right to a more inclusive, fairer and more diverse society.
Thanks to their determination and energy, women have made great progress and set in motion processes which, for example, have allowed our female students to perform exceptionally well in their studies, our female teachers to get a foothold in research areas which, until recently, were largely dominated by men, and our professional staff representatives to organise their work in an increasingly effective and innovative way. The energy and inspiration that have been put into these processes have nevertheless run up against the inertia of our organisation, which slows down the more balanced element, i.e. the students enrolled, especially in the so-called STEM (Sustainable Technologies and biotechnologies for Energy and Materials) areas, unfairly lengthening our teacher's careers and making it more difficult for them to access senior positions and decision-making roles. The pandemic emergency and the resulting crisis have made matters even worse. As gender studies literature has already shown, there will be long-term consequences which, once again, are likely to affect women significantly, especially when it comes to their scientific productivity and workload. So, should we presume that the time for real change has been further delayed and that we must wait for better days to come? Naturally, my answer to these questions is a firm "no": if ideas, thoughts and visions are evolving and renewing themselves too slowly, this means that we need to work harder and better.
In order to achieve this, I believe there are two key turning points. First of all, we need to stop thinking that pursuing equal opportunities, greater gender balance, reconciliation and fighting stereotypes is "a women's thing": it is simply unacceptable for such discussions to be held almost exclusively among women. It is our future that is at stake, the future of our professions, the training of those who will be making political decisions, and the vision of those who will be called upon to envision better worlds and societies. Therefore, this involvement needs to be broader, inclusive and daring. We are all – women and men – being called upon to take a bold and non-defensive approach to a situation which, if it becomes fairer, will also become more effective and provide food for thought as well as imaginings and visions that reflect our growth as a community. The second key turning point that I think is indispensable is the belief that we must connect with society so that we can sow the seeds of change. Our gender equality reports will only show visible progress if we are able to actively fight to break down stereotypes in our lecture halls, schools and youth gathering places, where there is an urgent need to also prevent all forms of gender-based violence, from the most common and seemingly harmless ones to the most serious ones.
Recently, we have been deeply moved by the tragic loss of one of our female students who was killed. After the shock and grief, it is now time for us to make a specific commitment, since violence cannot be prevented unless we put in place a culture of prevention. Moreover, the University, or rather all universities, have an obligation to be the driving force behind this cultural change.
The Gender Equality Plan (GEP), which we will soon submit to the Bodies for approval, shows our strong commitment to this cause. The European Union demands it and has wisely decided to make it an essential requirement for those who want to apply for competitive research funding. The challenge will be to make sure this document is not just for show or driven by opportunism, but rather an opportunity to implement a vision, which entails taking the risk to invest both human and financial resources that can promote taking action and implementing ground-breaking projects. Our GEP will involve teaching, research and the third mission, with a focus also on recruitment, since enhancing talents within professional communities is a crucial distinguishing feature that actually makes a difference. However, in the GEP, it is also necessary to address the issue of raising awareness: at some point, I started to believe that, in addition to making efforts and putting energy into speeding up change to encourage concrete action and good practices, we also need to lay the ground and accept the fact that, in this respect, taking time to reflect and raise awareness is all the more necessary and unavoidable. From this perspective, I reckon that our community has worked hard over the last few years and can say that it is at least moderately satisfied. Nowadays, people seem to be more sensitive to these issues, less afraid to address them and more keen to discuss them in a critical and constructive way, knowing that we are first and foremost people and, as such, we deserve equal opportunities. The more we are able to harness our talents and differences, the more society will be willing to welcome us all, helping us to grow freely and in a truly democratic way.
Francesco Ubertini
Rector of the Università of Bologna form 2015 to 2021