Rector
The Rector represents the university legally and institutionally; he is the head of the university organisation. He is responsible for the pursuit of the university's goals based on quality criteria and in compliance with the principles of effectiveness, efficiency, transparency and the promotion of merit.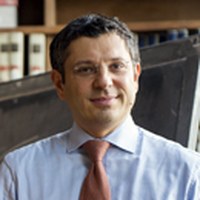 Professor Francesco Ubertini, University of Bologna Rector
Born in Perugia on 6 February, 1970, he moved to Bologna to study at the University, where he graduated in Civil Engineering cum laude and was awarded a PhD in Mechanics of Structures in 1998. He became a university researcher in 2000 and Associate Professor in 2001. Since 2007 he is Full Professor of Mechanics of Solids and Structures at the University of Bologna and since 2015 he has been a member of the Academy of Sciences of the Institute of Bologna.
From 2007 to 2015 he held the position of Head of Department and from 2012 to 2015 he was a member of the Academic Senate of University of Bologna. Among his previous positions, he was President of UniAdrion (2017-2018),  President of Bononia University Press, Board member of the Centro Ceramico, member of the Technical Committee on Computational Solid and Structural Mechanics, European Community on Computational Methods in Applied Sciences (2010-2014) and Executive Council member of the Italian Group of Computational Mechanics (2006-2013).
He is member of the Board of Rectors of UnaEuropa - University Alliance Europe, board member of European University Association, president of Federico Zeri Foundation, of Bologna Business School, and of Fibra - Fondazione culturale Italo Brasiliana. He is Board member of the Italian University Rectors Conference, President of the Magna Charta Universitatum Observatory and Governing Council of the Observatory of the Magna Charta Universitatum. He is member of the steering committee IHEA - Italian Higher Education with Africa Foundation. 
He currently teaches the first module of Mechanics of Solids and Structures for the 1st cycle Degree Programme in Civil Engineering.
His research activity focuses on various aspects of them mechanics of solids and structures, with theoretical and applied contributions in many fields of Engineering. These include in particular a) numerical modelling and structural analysis; b) smart structures and innovative materials; c) historical structures and innovative materials; and d) structural monitoring and diagnostics.
He coordinates a large research group that is very active on the international scene and has participated in different roles in many national and European research projects. He is author of more than 70 papers in international journals and more than 200 papers in national and international conference proceedings.