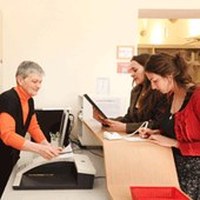 Notice
At the moment, due to the measures to contain the COVID-19 epidemic, the offices of the University of Bologna do not provide the Service. 
The request for the tax code can be presented at the Revenue Agency during the opening hours (from Monday to Friday from 8:45 to 12:45) even without an appointment. 
Besides the completed and signed application form, they will need to show the following documents:
For Italian or EU citizens, the applicant's identity document;
For non-EU subjects:
- A valid passport with entry visa stamped no earlier than 90 days before;
- Or a valid stay permit, or receipt of application for one, complete with photo; if their stay permit has expired but they have applied for a renewal at least 30 days before the expiry date, they also need to present the receipt of payment (bollettino postale);
- Or the applicant's certificate of identity and photo, issued by their country's consulate or embassy in Italy.
The Tax Code application form may also be presented by proxy (18 yrs +). In this case the proxy must show his/her own proof of identity as well as a copy of the delegating party's document.