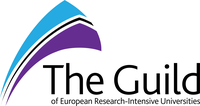 The University of Bologna is a founding member of this group of twenty of Europe's leading universities from fifteen different countries. View the list of group members
Founded in 2016, The Guild is dedicated to enhancing the voice of academic institutions, their researchers and their students, and is committed to the pursuit of excellence, the importance of truth-seeking and trust-building as the foundation of public life, and the creation of new knowledge for the benefit of society, culture, and economic growth.
The Guild's vision is to be an effective voice to help further research, create innovation for public benefit and enrich public debate at European and national levels.
Activities
The main activities that The Guild deals with are:
Research, education and innovation policies
Research and academic partnerships
Institutional growth
Events
The Guild organizes events and workshops to foster dialogue between the academic community and politicians on Europe's main economic, political and cultural challenges.
Publications
The Guild produces overview documents on European research policies and  the main topics related to knowledge development. The Guild shares its vision with the European research system, in order to contribute to the international debate.