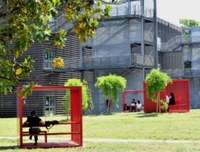 The University of Bologna climbs three positions in the new Times Higher Education Rankings, which measure universities' impact on societies and their commitment to a sustainable development.
The Alma Mater gets to position number six in the world (and number one in Italy) in the 2020 edition of the THE Impact Rankings, in which Times Higher Education evaluates universities' societal impact and their commitment to a sustainable development.
The 2020 ranking considers 766 universities all over the world, almost 300 institutions more than to last year. Each university is evaluated on its performance regarding the actions it undertook and the funds it invested to achieve the Sustainable Development Goals (SDG) described in the 2030 Agenda of the United Nations.
Last year, the University of Bologna secured position number nine of the world raking. This year the Alma Mater climbs three positions, holding to its place in the top 10 zone of the chart, despite a higher number of institutions being evaluated. The University of Bologna is once again number one among the Italian universities in the ranking.
If we look at the ranking criteria, we can see how the Alma Mater performed really well in each one of them, achieving great results in some relevant areas. The University of Bologna gains position number three in the world within Goal 16 "Peace, Justice and Strong Institutions", which measures the ability of promoting more peaceful, inclusive societies through the implementation of the access to justice and more efficient, responsible and inclusive institutions. In terms of Goal 1 "No poverty", the Alma Mater is the fourth university in the world. This parameter evaluates initiatives and solutions aimed at eradicating extreme poverty and implementing social protection measures for everyone. 
Again number four in the world within Goal 5 "Gender equality", assessing gender equality policies enforced by institutions to overcome discrimination and imbalances. Goal 6, "Decent work and economic growth", sees the University of Bologna in position number four in the world for the economic research quality and the job networks it offers to its students and graduates.
These achievements represent the outcome of a significant effort the University of Bologna has undertaken in recent years to promote sustainable development initiatives. Indeed, the University of Bologna adapted its strategic plan to the 17 goals of the 2030 UN Agenda, so that all its activities would be match the SDGs. Moreover, the Alma Mater has a system in place to monitor its direct and indirect impact as institution with a number of yearly reports and through several initiatives, described on the website AlmaGoals, aiming at raising awareness among the academic community.
Published on: 27 April 2020