The Ambassador of Mexico at the University of Bologna
Rector Francesco Ubertini welcomed Ambassador Carlo Eugenio Garcia De Alba Zepeda on his visit to the University of Bologna to discuss possible collaborations to strengthen the relationship in the field of teaching and research between Unibo and Mexican universities and businesses.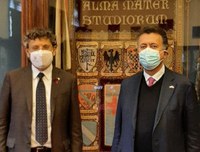 On Tuesday, April 12, Mexico's Ambassador Carlos Eugenio Garcia De Alba Zepeda came on an official visit to the University of Bologna where he met with Rector Francesco Ubertini. Other participants of this meeting were Paolo Zavoli, honorary consul of Mexico, and Hector Rodiguez De La O., visiting language expert at the University of Bologna.
The Ambassador stated his commitment to increasing the number of Mexican students at the University of Bologna. At the moment, the University has approximately 20 Mexican students regularly enrolled, but many more come every year on international exchanges. The meeting also served to acknowledge the relevance of the collaborations on teaching and research between the University of Bologna and Mexican Universities, notably National Autonomous University of Mexico and several universities in Monterrey.
While discussing future perspectives, the possibility of collaborations with Mexican businesses also emerged. Firms in Mexico could host Mexican and Italian students on internships and could organise joint events with the University of Bologna. A good starting point could be the bicentennial of Mexico's Independence, which will take place on September 27 this year.
After the meeting, Mexico's Ambassador went to the Bologna University Library, where the Codex Cospi is kept. One of the few Pre-Colombian manuscripts in the world, the Codex Cospi has recently been analysed with non-invasive advanced techniques specifically designed to retrieve the composition of the colours with which it was decorated between the 15th and the 16th century.
Published on: 16 April 2021