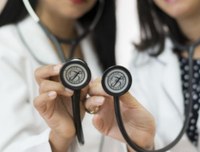 Among the many programs, a new degree course in Medicine and Surgery with a double base in Forlì and Ravenna, a training network for placements and specialization schools including Cesena and Rimini, Rimini's innovative Institute for Health, and a new international MA in Biomedical Engineering in Cesena.
On the 150th anniversary of the agreement between Alma Mater and Sant'Orsola University Hospital and on the 30th anniversary of the Romagna Campuses, we celebrate a new project involving the University of Bologna and the AUSL Romagna (Local health Unit of the Romagna region). This new synergy includes teaching, research and health assistance, and comprises the Emilia-Romagna Region, its institutions and all the cities of University of Bologna's Multicampus (Cesena, Forlì, Ravenna and Rimini) each with their own health structures representing their local peculiarities and specializations.
In February 2018, the regional steering committee and the regional welfare committee approved a strategic document, which included a framework agreement between the University and AUSL Romagna, thus establishing the first three University Complex Operative Units.  Following up on that document, the President of the Emlia-Romagna Region, the Regional Assessor for Health, the Rector of the University of Bologna and the mayors of Cesena, Forlì, Ravenna and Rimini have committed to this extremely challenging project.
Cesena will enhance its training offer with the creation of a new international MA degree in Biomedical Engineering focusing on health-related digital technologies and mixing electronic and information engineering. For more than 20 years, biomedical engineering in Cesena has been giving students a complete path (BA, MA, Ph.D.), allowing them to gain specialised and multidisciplinary knowledge. Moreover, Cesena offers a cutting-edge campus with its new "Salute 4.0" (Health 4.0) lab, which is opening soon and is equipped with advanced technology for movement tracking and rehabilitation, for bio-image analysis, for biological engineering and with a multi-parametric station for physiological measurements in real and immersive environments.   
Rimini is already the seat of the first Italian department of Life Quality (Quvi) and provides degrees in Exercises and Sports Sciences, Nursing, Wellness Culture and Pharmacy. In the context of this project, the city will host the Institute for Health. This is an innovative centre with its House of Health providing prevention services, teaching as well as research projects on the wellness culture (healthy diet and lifestyle, prescription and administration of physical training as diabetes and heart-disease prevention) and in the wider framework of the Italian Factory of Wellness project (FAIBENE). The Institute of Health will also be the seat for the new MA courses for health professionals and "One Health", the new international MA  of the UNA Europa Alliance involving Freie Universität Berlin (Germany) University of Edinburgh (GB), University of Helsinki (Finland), Uniwersytet Jagielloński (Poland), KU Leuven (Belgium), Universidad Complutense de Madrid (Spain) e Université Paris 1 Panthéon-Sorbonne (France). A Health/Wellness Urban Station is also part of the project. Here, people are free to train daily and to get access, through digital multi-touch technology, to valuable customized information about health, vital signs, training, and healthy diet. These projects will all support FAIBENE.
Furthermore, the project includes a new degree course in Medicine and Surgery in the two campuses of Forlì and Ravenna with placement and specializing school networks extending to Rimini and Cesena, which, once operative, will involve more than 1000 students. The aim is to create a fruitful collaboration between Alma Mater's medical area and the outstanding examples of Romagna's health network. This, in the future, will be known as Romagna Polyclinic. Romagna's management model represents a virtuous and peculiar example in that it comprises a number of high-quality health structures close to each other, thus providing an ideal environment for students and residents and for the wide variety of internships in hospital wards and labs, that the degree courses intend to offer.  
On October 28th, a progressive integration in the clinical field was also agreed upon. In particular, this is to be carried out through the identification of complex operative units with high university potential, which could, in the future, become further departments of the Alma Mater, in line with what the Hospital Reordering Plan and the identification of the professional skills in Romagna already defined.
Published on: 12 November 2019