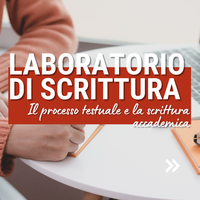 WRITING WORKSHOP
The textual process and academic writing
Writing is a creative activity that can always be improved!
10-meeting course to refine the ability to write academic papers paying attention to the
formal and structural aspects of the paper as well as communicative effectiveness and critical soundness.
The number of participants in the course is limited (maximum 25 participants).
Registration and participation in the track meetings is required.
A B2 level of Italian is required to participate.
📆19/20/26/27 April - 3/4/10/11/17/18 May
⏰17:00 - 19:00
📌GREEN LAB - Via Angherà n. 22 Rimini, second floor.
Speaker: Prof. Aurelio Terlizzi, professor of literature at the Liceo "Cesare - Valgimigli" in Rimini, expert
of language and writing with many years of experience.
Published on: 04 April 2023