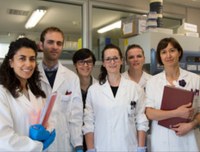 More than 100 mln euro for funding 244 projects. One year from the end of Horizon 2020 - the European Framework Programmes for Research and Technological Development - the Alma Mater is one of the top universities in Europe for its ability to attract substantial research funds. This is a rewarding result for UniBo's researchers and their high quality outputs, covering a variety of topics and disciplines which are central for the challenges of tomorrow: from climate change to clean energy, from social inclusion to health and food.
So far Horizon 2020 has provided more than 87.8 mln euro, which was the sum the University of Bologna secured within the previous European funding scheme (the 7 th Framework Program), which ran from 2007 to 2013. Since the launch of Horizon 2020 in 2014, the Alma Mater progressively has improved its performance. In the past three years, 152 UniBo projects were funded with 68.7 mln euro. Considering only last year, 64 new research projects were funded with 29 mln euro (source: Research Projects Register of the University of Bologna / Anagrafe Progetti di Ateneo).
"Nowadays, our University plays a pivotal role in the field of scientific research. In recent years, we've been working for attracting more European funds and it shows. This allows us to be better equipped to face the global challenges that await us, such as healthcare and studying climate change; it ultimately enables us to fully embrace our responsibility towards society", says professor Antonino Rotolo, Vice Rector for Research. "We owe this outcome to our community: to our researchers able to obtain important results by collaborating with other institutions and businesses all over Europe, and to our technical staff who is always committed and professional when projects are to be implemented".
According to EU data, at present, the University of Bologna is the first university in Italy for the number of funding gathered within "Societal Challenges", i.e. the main area of Horizon 2020, which provides funds for scientific and innovation research projects revolving around seven relevant themes at the European level: health, food, energy, transports, climate, social inclusion, safety. Within this area, the Alma Mater has taken part in 114 projects with a total funding of 42.3 mln euro.
More specifically, within the field of food and agriculture research, UniBo is the first university in Italy and the third in Europe for the amount of grants received, reaching the sum of 17.3 mln euro and 43 projects. Again first position in Italy in the central field of climate change (14 projects, 5.8 mln euro), while the field of social inclusion sees the Alma Mater reaching the second place with 15 projects funded and 4.8 mln euro. A further central area, that of health and wellbeing, sees UniBo securing the second position in Italy for the number of grants (6.4 mln euro for 17 projects), whereas it obtains the third place in the field of energy with 15 projects funded with 4.9 mln euro.
Further great results are coming from the "Excellent Science" area of Horizon 2020, which focuses on investments aimed at attracting and supporting knowledge development and researchers in their careers: in this area, UniBo has so far collected 36.6 mln euro spread across 79 projects. In this area, Marie Skłodowska-Curie actions are particularly relevant. These grants are meant to help researchers improve their careers by funding visiting periods at foreign institutions: in the past six years, researchers at UniBo won 44 of these grants for a total of 12.6 mln euro. Last but not least, the European Research Council Call for Actions (ERC). This European institutions awards gifted researchers who are carrying our research on the field: to date, ERC funded 19 project with 19.5 mln euro. 14 of these projects include a number of principal investigators who chose the University of Bologna to carry out their studies.
Finally, the Alma Mater performed really well in the "Industrial Leadership" area too. This Horizon 2020 area enhances competitivity, the creation of employment and European growth. By participating in 36 projects, the University of Bologna has collected 16.6 mln euro until now. The projects the Alma Mater collaborated with mostly focus on the ICT sector (21 projects, 8.5 mln euro),  nano- and biotechnologies, as well as new materials and technologies for advanced productive processes (12 projects, 7.5 mln euro).
Published on: 07 February 2020