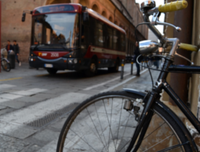 Unibo struck a deal with TPER to let students buy annual passes for public transport at the price of 150€ instead of 220€. The agreement is valid throughout the entire 2020 and also applies to doctors under training, PhD students and users of the third km belt (that includes Ozzano Emilia). Moreover, 4,000 students can apply for having the same annual pass for 69€. The usual agreement for public transport applies instead to teaching staff members and technical-administrative staff.
As concerns cycling, following the infrastructure-based actions of the government targeting bike safety, the AlmaBike project will provide students with 600 bikes on a free loan formula via a public call for applications. The bikes will have GPS trackers and anti-theft devices and will be distributed to students between October and November, once teaching activities will have resumed. This initiative will allow students to move freely and sustainably around the cities of the University of Bologna.
Moreover, the AlmaBike project will make available 50 more bikes for scientific research. A sample of staff members will receive these bikes. AUTC and DICAM Strade will carry out research aimed at collecting data on air quality (PM1.0, PM2.5, PM10), on users' choices concerning infrastructures and road safety issues. Thanks to the collaboration with BIGEA, the interaction between pollens and inorganic bio-aerosol will also be taken into consideration to evaluate its consequences on human health. These bikes will be equipped with smart sensors that will transmit data to a dedicated web platform and then made public.
Covid-19 pandemic forced students and staff members to change their daily habits also when it comes to urban transportation. In this post-lockdown phase, the University of Bologna commits to supporting a new paradigm of sustainable urban mobility, that will ease students' return to theil learning activities after the emergency thanks to Unibo's mobility projects. Within this framework, the University decided to give new impetus to local public transport and cycling, as to maintain harmony between healthiness and right to travel. 
Published on: 08 July 2020