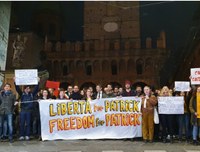 Dear students and colleagues of the UniBo community, dear citizens, let me thank you for being here today. Together with our Mayor we accepted the Student Council's invitation to march through the beating heart of the University life, Via Zamboni, up to this square, as to symbolize an embrace to the city. Ours is a modest gesture, walking is indeed a very ordinary action, but the reasons behind this action are extra-ordinary: we were moved by the great desire of thinking of and raising awareness about Patrick Zaky, who was arrested on February 7th at Cairo airport while on a trip back home to visit his family and friends during a term break. We want to send Patrick our thoughts and make him feel our solidarity in such a delicate moment of his life.
If we are here today in such high numbers, it means that we all share this wish and so do the other institutions of the Gemma Consortium, who have organized similar events in several European cities in these very hours. Patrick is one of our students, a fellow for our students, one of our pupils. Above all, he is a citizen of Alma Universitas, he belongs to an academic community that, as such, shouldn't be divided by national or cultural borders nor should it be afraid that human rights are not safeguarded.
Being enrolled in an Erasmus Mundus programme, the Gemma Master, Patrick bears witness to an open Europe, and to the free movement of people and thoughts which allowed and still allows for a society that is increasingly equal and richer in humanity. This is why we as professors immediately referred to him as "our student", his friends as "our fellow student", and the authorities in Bologna as "our citizen". The adjective "our" does not include any identity claim, but it rather contains a shared will of supporting the idea of an inter-cultural community which draws from discussions among people from different backgrounds and with diverse interests in order to grow and make the world a better place. From this perspective, Patrick is surely our student and our citizen. The UniBo community and, more generally, the international academic community, needs his thirst for knowledge, needs curious minds asking questions in the classrooms, needs to be questioned in order to foster progress, critical thinking and to make sure that the light of knowledge always stays on.
This is why we are here today honouring the common rules of the polis: the rules of living together within both the university and citizen communities, which are able to protect and safeguard human rights, and, above all, the freedom of thought.
Kant said that "the violation of rights in one part of the world is felt everywhere", as to imply a universal echo that allows us to hear a call for help even from miles away and therefore forces us look up and become aware and active.
In the few words Patrick could say during his imprisonment, he made a wish to those who were listening to him: he wished to get back to his studies and to resume attending the classes. These very classes evidently hit the target that every university course should strive for: promoting knowledge and teaching diversity and complexity. These are the true challenges of the new Humanism. Many factors contribute to the achievement of this target, from each individual, be it a student or a professor, with his or her own personal baggage, to the spaces that we visit every day, the classrooms. Recently, university classrooms have been often called upon because they represent the spaces in which we look for opportunities and we exert our right to be together and learn about each other. Mutual listening and the relationship between learners and teachers are the fundamental and necessary pillars of knowledge. We are here today in the name of these values, we are here as students, professors, technical-administrative staff and citizens of a polis which is proud of its university and wants Patrick to feel our voice and our solidarity: we are here, we are many and we are waiting for you, trusting plural and democratic knowledge, and telling you that you are not, and never be, alone.
I would like to conclude this speech by reading a brief passage about the concept of "world citizenship", which Martha Nussbaum, professor of Law and Ethics at the University of Chicago, examines in depth.
In her masterpiece Cultivating Humanity, she writes: "Becoming a citizen of the world is often a lonely business. It is, in effect, a kind of exile - from the comfort of assured truths, from the warm nestling feeling of being surrounded by people who share one's convictions and passions. [...] It is up to us, as educators, to show the beauty and interest of a life that is open to the whole world, to show them that there is after all more joy in the kind of citizenship that questions than in the kind of citizenship that simply applauds, more fascination in the study of human beings in all their real variety and complexity than in the zealous pursuit of superficial stereotypes, more genuine love and friendship in the life of questioning and self-government than in submission to authority. We had better show them this, or the future of democracy in this nation, and in the world is bleak" (Martha C. Nussbaum, Cultivating Humanity, Harvard University Press, 1997 p. 83-84).
Patrick, we stand by you as a community and we are waiting for you to come back and to continue to grow and nurture together the human being in each and every one of us.
Published on: 19 February 2020