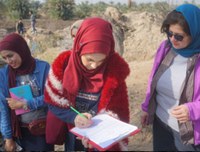 All of this was made possible by Waladu, the European project led by the Alma Mater. But it doesn't end here: more effort will go towards getting citizens more involved and to create better job opportunities for Iraqi students.
New life blood into Archeology in Iraq. At the heart of Mesopotamia, in the land that cherishes this vast and priceless historic heritage, a lot is going on: at the universities of Baghdad, Kufa and Qadissiya 16 new courses in Archeology, Philology and Ancient History are about to start, and six new labs and libraries devoted to archaeological studies. Waladu, the European project led by the University of Bologna, made this possible. During the past three years, Waladu has trained for more than 1250 hours the teaching and administrative staff of those Iraqi universities in innovative teaching and managing techniques for the new courses.
The project was funded with 1 mln euro by the Erasmus+ programme (Capacity Building Key Action 2 in the field of Higher Education) and it's led by the Alma Mater, in particular by its proxy, Nicolò Marchetti, professor at the Department of History, Cultures, and Civilization. Besides the Alma Mater and the three Iraqi universities, two further Universities were involved in the project: Ludwig Maximilian University of Munich (Germany) and Koç University in Istanbul (Turkey).
An event at the University of Kufa celebrated and presented the outcomes of this project. The event was attended by researchers, professors, students and representatives of the institutions and of the civil society from the countries involved. On this occasion, the sustainability and replicability strategy of the project was also put forward. The latter hinges on the WaLink, a network of institutions, universities, research centers in Europe, North America, Iraq and the Middle East. Essentially, WaLink is meant to support and enhance the quality of archeology research and teaching in Iraq.
However, UniBo's commitment in Iraq does not end with Waladu. Indeed, the University of Baghdad has just launched Banuu, a new Erasmus+ project which aims to provide Iraqi university students in the field of the Humanities with better job opportunities through business-oriented internships and trainings.
Moreover, Professor Marchetti and the University of Bologna are carrying out the Eduu project. This is an European project with the goal of strengthening cohesion between Iraqi civil society through the enhancement of their cultural heritage, which is ultimately seen as a tool for dialogue.
Thanks to the commitment of scholar of Eduu, a few days ago, the National Museum of Iraq launched an Educational room for children. This room was designed by one of the partners of the project, Turin's Center for Archaeological Researches and Excavation, under the direction of Professor Carlo Lippolis, and it is equipped with video and gaming stations, talking maps, educational games and comics. On this special occasion, the curators of the room created a cartoon about the value of archeology and the importance of learning about the past and about Iraq's immense cultural heritage.
Published on: 04 February 2020