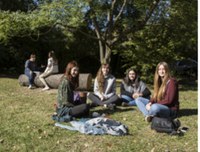 The University of Bologna secures its first position at the national level for the third consecutive year in the GreenMetric Ranking, which evaluates universities' commitment to environmental sustainability. Worldwide, the Alma Mater keeps climbing the ranks and reaches position number 12. For the third year in a row, the Alma Mater is the first University in Italy for environmental sustainability according to the latest edition of the GreenMetric ranking.
In the 2019 edition of this ranking, which evaluates green policies and actions of universities across the world, the University of Bologna defends its first position in Italy, confirming the trend set in 2017 and 2018.
What's more relevant, however, is Alma Mater's placement in the world ranking. Indeed, in the latter, the University of Bologna secures position number 12 (together with Dublin City University and the University of Sussex). In the past 4 years, the Alma Mater has climbed the ranks, going from position 71 in 2016 to 29 in 2017, rising up to position number 15 in 2018. Finally, 2019 saw the University reaching number 12 of the list.
The GreenMetric ranking was launched by Universitas Indonesia in 2010 and is meant as a way of getting universities from all over the world to commit to the environmental effort. The ranking takes into account universities' green actions and policies, with particular focus on climate change, water and energy waste, recycling, and transport sustainability. 
Universities joining the survey are increasing year by year: participants in the ranking went from 719 to 780 in 2019, among these, there are 29 Italian universities (two more than in the 2018 edition).
Since 2017, the Alma Mater has been representing Italian Universities in the GreenMetric board, and therefore coordinates and collects proposals for improvement of the ranking parameters. Earlier this year, GreenMetric's representatives officially acknowledged the key role played by the University of Bologna and nominated it the "Most Active National Coordinator".
Published on: 05 December 2019