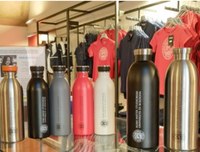 The University of Bologna is offering new students enrolled in 2019/2020 three-year Bachelor's degree and Single Cycle degree programmes a free "Alma Mater personalized" reusable bottle. After the interruption caused by Covid-19, distribution resumes from 25 May. In agreement with its partner CUSB, the University has decided to extend the bottle distribution until 12 September 2020.
The lightweight bottles, made from a single sheet of 18/8 stainless steel, are produced with a carbon neutral footprint. The initiative, part of the Plastop project that aims to reduce the use of plastic on University premises, is organised as part of "Sustainable Multicampus" to raise awareness and promote sustainable behaviour, and is funded by Fondazione Carisbo. 
The reusable water bottles will be handed out by CUSB – University Sports Centre – as explained below. To collect a bottle, students will have to show an identity document and/or their University badge. The use of face masks is mandatory inside the stores.
In Bologna, bottles may be collected between 25 May and 12 September at the UniboStore, in Piazza Verdi 2/A (Monday-Saturday: 10.00-16.00); for information, please contact cusb.store@unibo.it.
In Forlì, bottles may be collected subject to reservation at the UniboStore on the 3rd floor of Palazzo Talenti Framonti, in Piazza Saffi, 45, inside Green Office Romagna; for information and to reserve a bottle, contact cusb.fo@unibo.it.
First year students will get a 15% discount on all products at the UniBoStore, valid only on the day they collect their bottle. Additionally, for the 2019/2020 academic year, the University and CUSB have launched a promotion aimed at encouraging students to participate in sports, come together and enjoy a lifestyle focused on health and wellness: CUSB registration is just €5 for all first-year students. When collecting their reusable water bottle at UniboStores in Bologna and Forlì, first year students will also be able to register at CUSB at the promotional price.
The University of Bologna's Plastop project was launched in 2018 with the aim of progressively reducing the use of plastic on University premises. It comprises a variety of initiatives, including encouraging the use of reusable bottles instead of disposable plastic bottles, both during University activities and in everyday life within the University community, and the installation of water coolers and alternative solutions to plastic cups in vending machines.
What does -0.08 mean?
This number is printed on the bottles, what does it mean?
-0.08 is the amount of CO2 that is not released into the environment every time you reuse your water bottle, instead of buying a disposable plastic bottle. The equivalent of 80 grams (0.08 kg) of CO2 is released into the environment for every disposable plastic bottle produced.
Published on: 08 June 2020