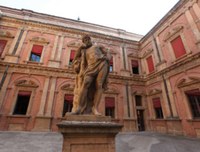 For the twelfth consecutive year, the University of Bologna ranks first among Italian universities with more than 40,000 students. Its key strengths are international vocation, quality facilities, communication, and digital services.
Once again the ranking of Italian universities drawn by Censis shows the University of Bologna in first place confirming for the twelfth consecutive year its top position among mega universities, that is, those with more than 40,000 students.

The indicators for which it obtained the best results are internationalization (first place, with 101 points), quality university facilities (first place, with 95 points), communication and digital services (joint first place with the University of Palermo, with 102 points). Compared to last year, the University of Bologna improved its overall performance from 91.5 to 91.8.

"I am happy to see the Alma Mater confirm once again its top position among Italy's mega universities: rankings are useful tools that can help students choose their university career", commented Rector Francesco Ubertini.

The "Censis Ranking of Italian Universities", which has been published for over two decades, includes 64 listings ranging from the quality of the structures to the services available, from the level of internationalization to employability and digital communication. It is a comprehensive analysis of the Italian university system available at www.censis.it.
Published on: 22 July 2021