Forlì Campus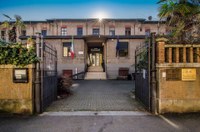 Summer opening times
From 1 July to 31 August:
Monday-Thursday 9:00-18:00, Friday 9:00-14:00. 
Summer closing from Monday 12 to Friday 16 August.
Interlibrary loan services suspension
From 8 to 18 August, Interlibrary loan and Document delivery services will be suspended.
Dictionaries for loan
Over three hundred dictionaries of the main European and extra-European languages ​​are available on the first floor of the Library. All of them can be borrowed for 7 days. 
EZ-Proxy service AlmaRE: remote access to library resources
EZproxy service AlmaRE  allows you to access the electronic resources of the University of Bologna (databases, journals, books, encyclopedias and dictionaries) from  home.
With Proxy on the fly you can access EZproxy AlmaRE from any web page, adding a button to the bookmarks bar.