Forlì Campus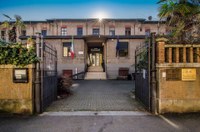 Inauguration of the new timetable 
On Friday, 22 November at 18.00, the Rector Francesco Ubertini will visit Ruffilli Central Library on the occasion of the extension of the opening hours, from 9 to midnight from Monday to Friday and from 9 to 18 at the weekend.
The Rector will meet students, professors and citizens to emphasize the importance of extending the services of the Library, as a place for study and social gathering.
In addition to the Rector, the meeting will schedule the following speakers: Luca Mazzara Chairman of Forlì Campus, Gian Luca Zattini Mayor of Forlì, Raffaella Baccolini President of the Scientific Board of the Library, Morena Gervasi Head of Administrative Division of Cesena and Forlì Campus, Serafina Spinelli representing the University Library System, Deepika Salhan student representative in the Scientific Board of the Library and Angela Maria Politi Library manager.
Dictionaries for loan
Over three hundred dictionaries of the main European and extra-European languages ​​are available on the first floor of the Library. All of them can be borrowed for 7 days.
EZ-Proxy service AlmaRE: remote access to library resources
EZproxy service AlmaRE  allows you to access the electronic resources of the University of Bologna (databases, journals, books, encyclopedias and dictionaries) from  home.
With Proxy on the fly you can access EZproxy AlmaRE from any web page, adding a button to the bookmarks bar.