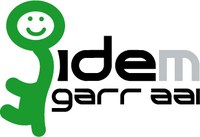 IDEM is the first Italian Academic and Research Federation of Authentication and Authorisation Infrastructures (AAI), aimed at enabling users of the national scientific and academic community to more easily access networked services and content made available by different organisations.
IDEM membership offers users of the University of Bologna the advantage of using only username and password to access all the resources made available by the Federation.
By becoming a member of the Federation, the University is also able to reduce utility management costs and create new services, exercising greater control over the authentication and authorisation processes.
GARR acts as a coordinator within the IDEM Federation, providing the central infrastructure and services and signing Membership Agreements.
For issues related to your username and password and logging in, please contact: assistenza.cesia@unibo.it
The services accessible through the Federation are made available by IDEM members and partners. For each request to access the services, the system will provide the owner of the specific service with the following information:
name and surname of the user;
email address;
an anonymous, persistent, non-reassignable user identifier (a string automatically generated by the system that does not contain user information);
information about the user's affiliation with the organisation to which he/she belongs (it consists of a macro-profile of the user, e.g. Student, Member, Staff, Affiliate, Alumn...).
to enable the service provider to identify the correct authorisation profile.
Who it is intended for
University users.